The Organic Food Delivery Service That Wants To Take Down Whole Foods And Amazon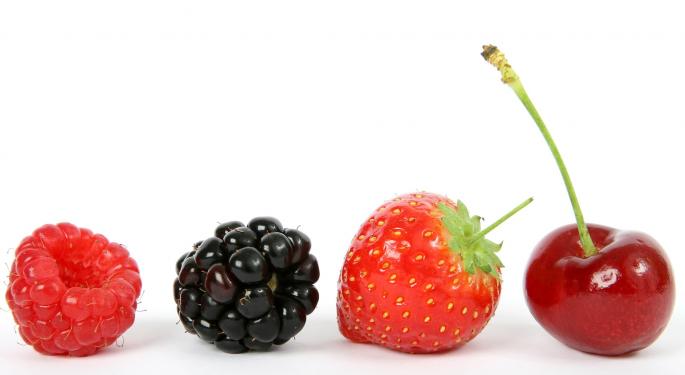 If you've been to a grocery store at any point this decade, you may have noticed organic foods are incredibly popular.
According to the Organic Trade Association, Americans spend over $43 billion on organic food each year. And in 2015, the number of organic businesses in the United States grew to 22,000, a 12 percent increase from the year before.
In particular, organic food is incredibly popular among millennials, even if they're not entirely clear what that means. So, it should come as no surprise that an arms race has developed among grocery chains and startups alike to not only offer as much organic food as possible, but to make buying it easier than ever.
Whole Foods
The trend has been kind to Whole Foods Market, Inc. (NASDAQ: WFM). The organic food giant, which had just 100 stores in 1999, has ballooned to 431 locations, and now operates in Canada and the U.K. They've also opened 365 by Whole Foods, which offers organics at a more affordable price.
Related Link: There's A New Chef Curry In Town
Wal-Mart And Amazon
Wal-Mart Stores, Inc. (NYSE: WMT) has expanded its organic food offerings, and recently partnered with Uber and Lyft to expand their delivery efforts. Amazon.com, Inc. (NASDAQ: AMZN) is slowly taking over the space in typical Amazonian fashion with AmazonFresh, which offers next-day grocery delivery in 11 cities and counting.
And then there's GrubMarket, an online delivery service for organic foods.
Newest Member Of The Organic Team
Founded by Mike Xu in March 2014, GrubMarket wants to cut out the middleman by connecting farmers directly to consumers.
Through their app, you can buy organic groceries in groups or individually, and have them shipped anywhere in the U.S.
"We directly connect producers to consumers so it keeps costs down," said Xu. "It cuts out the middleman like distributors and stores."
'Amazon Cannot Compete'
Xu likes his chances of growing in part because he doesn't think Amazon can gain a strong footing in the organic food space.
"Food is a perishable business, it's not the same as books or shoes," said Xu. "How much you need to sustain your business at a certain point...if you order too much, you waste money. If you order too little, then you're not going to be able to supply customers."
Related Link: "Online Food Delivery Still Only At 5% Penetration," Morgan Stanley Reports
"I think this is pretty much the only space that Amazon cannot compete," he continued. "It requires a lot of operations and care and quality. We think AmazonFresh is becoming like Google grocery. They are really not fresh. Their business model only supports grocery markets, and typically works in a city. Whenever they do a big order they want the farmers to do it right away. And the farmers cannot do that."
Taking On Whole Foods
Xu added that GrubMarket's ultimate competitor is Whole Foods. With lower prices and expanded online service, he's trying to do to them what Amazon did for brick-and-mortar retailers.
"There are a lot of places in the country where they aren't stores. They only operate in dense areas. We're online and we understand the nature of farming business. When the producer is ready, he needs to sell fast. We want to be their sell channel."
Posted-In: 365 by Whole Foods AmazonFresh GrubMarketTop Stories Startups Trading Ideas Interview General Best of Benzinga
View Comments and Join the Discussion!