Is Apple The Ultimate Bully?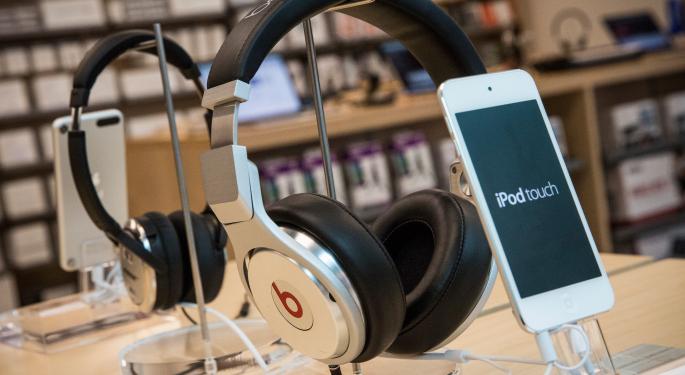 Monster LLC general counsel David Tognotti recently told The Wall Street Journal that Apple Inc. (NASDAQ: AAPL) can be a "bully" against other corporations.
Tognotti's comments came after Monster sued Beats for duping Monster CEO Noel Lee to gain control of the Beats brand. Apple responded to the suit by revoking Monster's MFi (made for iPhone/iPad/iPod) license.
This is not the first time that Apple has been accused of being a bully. The company is also thought to be pressuring record labels to eliminate free on-demand streaming music services, such as Spotify. That claim has yet to be proven -- and if true, Apple has not yet been successful.
The Monster lawsuit means that the company will likely never sell another Apple-licensed product again. However, Apple did not stop working with SAMSUNG ELECT LTD(F) (OTC: SSNLF) despite enduring numerous legal battles with the South Korean tech giant.
"It has to do with who has the economic leverage over who," Craig Delsack, a business, media and tech attorney in New York City, told Benzinga. "Just to differentiate Apple and Samsung -- it was Apple that was suing Samsung for patent infringement and then Samsung would have had the opportunity, if they thought it made economic sense, to put economic pressure on Apple."
Samsung could have responded by dropping Apple as a customer.
"Apple is one of the biggest purchasers of Samsung chips," said Delsack. "Samsung just decided, 'Well, okay, we're not going to drop them as a customer of ours because that's crazy.'"
Related Link: Sony Took A Big Bite Out Of Apple This Week
Who Needs Who?
Darren Heitner, a sports and entertainment attorney and founder of Heitner Legal, said there was -- and still is -- a need for Apple and Samsung "to have that affiliation even with pending litigation or litigation that has commenced and ended."
"What it means [for the other case] is Apple no longer feels the need, from a business standpoint, to affiliate itself with Monster," Heitner told Benzinga.
On the other hand, Apple might need Samsung as much as Samsung needs Apple.
"If Samsung dropped Apple as a customer, we're talking about hundreds of millions (or billions) of dollars in lost chip sales," Delsack noted.
Monster, on the other hand, paid Apple just $12 million in licensing fees since 2008.
"That's a drop in the bucket," Delsack added. This gave Apple the power to put economic pressure on Monster to back off.
A 'Drop In The Bucket' For Monster As Well
Monster has sold about 4,000 different products over the past seven years. Of those products, roughly 900 were made under the MFi program. Thus, Monster stands to lose far more than Apple now that this relationship has been terminated. However, Monster could make millions if it wins the Beats lawsuit.
"What Beats found was a loophole in their agreement that said, 'Hey, if we have a change of control of our company, then the intellectual property -- with respect to the Dr. Dre product line -- automatically reverts to Beats,'" Delsack explained. "Monster might have a good claim against Beats because what happened was, Beats took an investment by HTC, HTC took 51 percent of Beats, which was a change of control. Then the intellectual property automatically assigned back to Beats for the Dr. Dre product."
Beats is then accused of buying back half of that interest (25.5 percent) in order to gain control of the brand.
"It was like an end run to get the intellectual property away from Monster," Delsack continued. "That was one thing. And then the other thing was that the Monster executive had a five percent interest in Beats and then he sold almost 2/3 of that, and then he asked Beats, 'Do you have any deals on the rise that might be another liquidity event?' and Beats said, 'No, we have no other liquidity events on the horizon.'"
Disclosure: At the time of this writing, Louis Bedigian had no position in the equities mentioned in this report.
Posted-In: Beats Craig Delsack Darren Adam Heitner David Tognotti Heitner LegalTop Stories Exclusives Tech Best of Benzinga
View Comments and Join the Discussion!