Exclusive: William Green Discusses His New Book, 'The Great Minds Of Investing'
Benzinga recently had a chance to speak with William Green, author and contributor to publications such as Time, The New Yorker, Fortune, Forbes and the Economist, about his new book, "The Great Minds of Investing."
Mr. Green's book spotlights 33 iconic investors, including Warren Buffett, Charlie Munger, Irving Kahn, Joel Greenblatt, Bill Miller, Howard Marks, Mohnish Pabrai and Bill Ackman.
Great Minds
"The Great Minds of Investing" is a collection of stunning photographs of 33 renowned investors captured by the lens of Michael O'Brien. The photographs are accompanied by profiles either written or edited by Green, who told Benzinga that his goal was to take a look beyond the dollars and cents and capture the fundamental make-up of these investing geniuses.
"What we tried to do is convey something of their uniqueness," Green explains. "What is it that makes these people special?"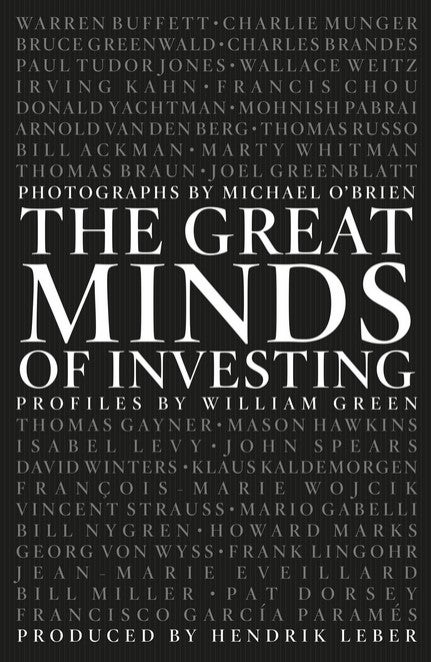 Common Traits
After interviewing and profiling so many top minds in the world of Wall Street, Green discussed some of the common traits that these people share, including tenacity in the face of adversity and the ability to go against the grain of herd mentality.
"One of the things that comes across again and again as a key trait of all of the great investors is an independence of mind that allows them to go against the crowd and resist fads that other investors are falling for," Green told Benzinga. "That requires tremendous self-confidence and emotional strength."
Inspirational Stories
When asked which profiles in the book he found most fascinating, Green said that one of the stories that resonated most with him on a personal level was that of Arnold Van Den Berg. To say that Van Den Berg has had a long road to success would be quite an understatement.
As the CEO of Century Management, Van Den Berg manages more than $1.6 billion in assets. However, many of his followers may be unaware that Van Den Berg was raised in an orphanage and that his parents were imprisoned at Auschwitz.
"By the time he was six years old, he couldn't walk because he was so malnourished," Green explained, adding that Van Den Berg didn't even recognize his parents when they came to pick him up at the orphanage after being released from the concentration camp.
When Van Den Berg's family subsequently moved to Los Angeles, there were concerns that he had suffered brain damage because of his poor academic performance.
"I look at Van Den Berg's story as one of the most inspiring in the book," Green said.
Universal Lessons
Green hopes the lessons that people can learn from the investors profiled in "The Great Minds of Investing" can reach beyond the financial world and teach readers about how to be successful in any walk of life. For example, in his profile of Van Den Berg, Green goes into detail about the investor's belief in the power of the mind to turn a person's dreams into reality. According to Van Den Berg's philosophy, investors, teachers, doctors and salesmen can all benefit from visualizing their goals, believing in their abilities and resisting negative thoughts.
"Part of the pleasure of the book for me is that you're taking these great minds and you're trying to hone in on one or two key universal lessons in each person's life," Green said. "I think all of us can benefit from this deep well of practical wisdom that these extraordinary people are sharing with us."
Green's book hit the shelves in the U.S. on May 29.
View Comments and Join the Discussion!
Posted-In: The Great Minds Of Investing William GreenTop Stories Exclusives Interview Best of Benzinga