Is Netflix Essential To The Future Of Pay-TV?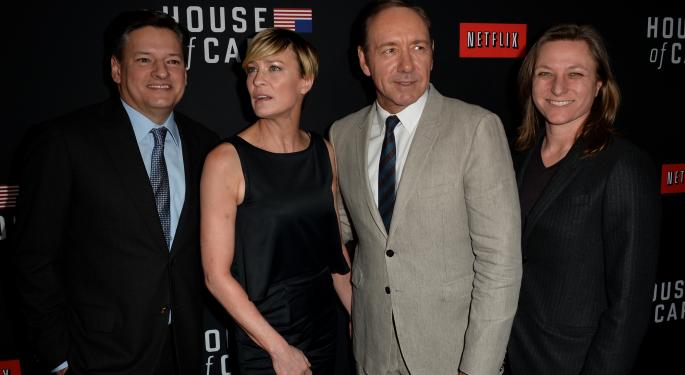 Netflix, Inc. (NASDAQ: NFLX) is frequently viewed as a replacement for traditional pay-TV services, but most subscribers still pay for cable or satellite service.
This week DISH Network Corp (NASDAQ: DISH) announced that it has added Netflix support to its various Joey units. The Netflix app previously came to the second-generation Hopper DVR.
"Our customers that have Netflix on the Hopper with Sling love it," Vivek Khemka, DISH senior vice president of product management, told Benzinga. "The feedback we have gotten is that it's very easy to use [and they] love having access to it right on the Hopper."
Khemka said the usage has been "very good" but would not divulge any specifics. "We went ahead and completed the work of adding it to the Joeys," he added. "Basically, any customer that has Hopper with Sling and enjoys it in multiple rooms of the house can access Netflix in any room at no additional cost [of buying separate set-top boxes]."
This begs the question: how important is Netflix to DISH, and how important is DISH to Netflix?
"When we look at how important Netflix is to DISH, I think the first thing we look at is, how important is Netflix to our consumers?" Khemka questioned. "A large chunk of [Netflix's 50 million subscribers are] in the U.S. and a large chunk are existing DISH subscribers. We know that there are some DISH subscribers that already access Netflix and there are some subscribers that don't.
"Our initial goal was to make it easy for the DISH subscribers that both watch DISH and Netflix to be able to access all their content in one place."
Related Link: Netflix Won't Be Harmed By Google's Paid Streaming Video Service
Complementary Content
Aside from DVDs (which are expensive to buy and cumbersome to rent) and digital rentals/downloads, there aren't many ways to catch up on old seasons of popular TV shows. Netflix is the easiest and cheapest solution.
"Netflix has some great content that complements the content we have on DISH," said Khemka. "For example, we don't have all the back seasons of Mad Men. We have the current season of Mad Men. What Netflix offers is all the back seasons but not the current season. When you put them all together you can binge watch every season, every episode."
There is one restriction: like all pay-TV providers, DISH's on-demand content is typically limited to the four most recent episodes of new TV shows. Subscribers could DVR the rest, of course.
"Those are the kinds of synergies we think makes it a compelling experience for consumers," Khemka added. "That's what is important to us: how do we create the best consumer experience? We don't divulge any numbers.
"I think from Netflix's perspective, we are the largest pay-TV platform now in the US to offer the product, and it reaches more people that have Netflix, as well as people that didn't have Netflix and [brought] them onto the Netflix platform."
Disclosure: At the time of this writing, Louis Bedigian had no position in the equities mentioned in this report.
View Comments and Join the Discussion!
Posted-In: Dish Network Hopper Hopper with Sling Joey NetflixTop Stories Exclusives Tech Best of Benzinga