Elon Musk Founded Tesla Knowing Auto Startups Are 'At The Bottom Of The List'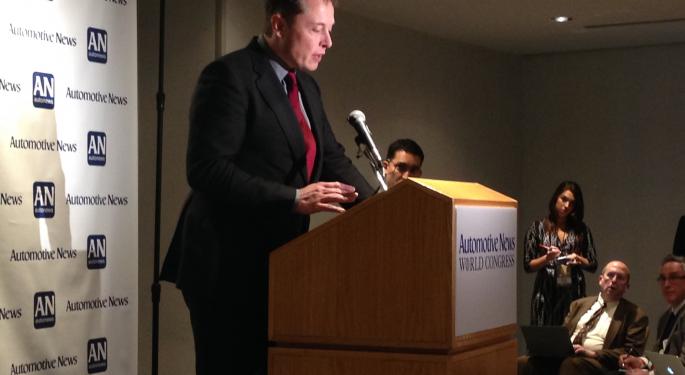 Not many entrepreneurs are eager to get into the automobile space, but Tesla Motors Inc (NASDAQ: TSLA) co-founder Elon Musk risked everything to ensure the company's survival.
"I put all the money that I had ever made into Tesla," Musk told attendees in Detroit at the 2015 Automotive News World Congress. "I was tapped out."
Musk said that if you were to rank the order of companies based on their likelihood to succeed, he is pretty sure that "starting a car company or rocket company would be at the bottom of the list."
The PayPal co-founder pushed ahead anyway, fearing that if he didn't build electric cars, no one else would.
"It was very important for there to be an example of an electric car that was great," Musk explained. "There were no great electric cars. People thought electric cars were like a golf cart. They were slow, didn't maneuver well, had low range or ugly. They didn't have too much functionality."
That mindset made it difficult for automakers to invest in the concept. Musk said he wanted to show people that electric cars can be fast and sexy.
"That's what we did with the Tesla Roadster," he added. "It's important to break the mold, to address that misperception that one couldn't make a great electric car."
Related Link: Are Investors Wrong About Tesla's Model D?
'Stupidity Squared'
During his presentation, Musk emphasized the struggles he endured when Tesla was started. No one took the company seriously. He said that most people assumed he was an eccentric rich guy who was going to lose all of his money.
"They told me that several times," he said.
Musk recalled an awful Sunday before Christmas in 2008. He said he never thought of himself as someone who was capable of having a nervous breakdown, but this was about as close as he had ever come. And it wasn't just Tesla -- he also had problems at SpaceX. He said he "desperately" scraped together money for a fourth flight (the first three rockets had failed). Getting money for Tesla wasn't much easier.
"Try to raise money for a startup car company that's making electric cars to boot," Musk remarked. "That sounded like stupidity squared. Investors were angry that we even asked them."
Disclosure: At the time of this writing, Louis Bedigian had no position in the equities mentioned in this report.
Image credit: Brianna Valleskey
View Comments and Join the Discussion!
Posted-In: Automotive News World Congress Elon Musk PayPal SpaceXTop Stories Startups Exclusives Tech Best of Benzinga