Cypress-Spansion Merger A 'Great Marriage,' But Big Synergies Will Take Time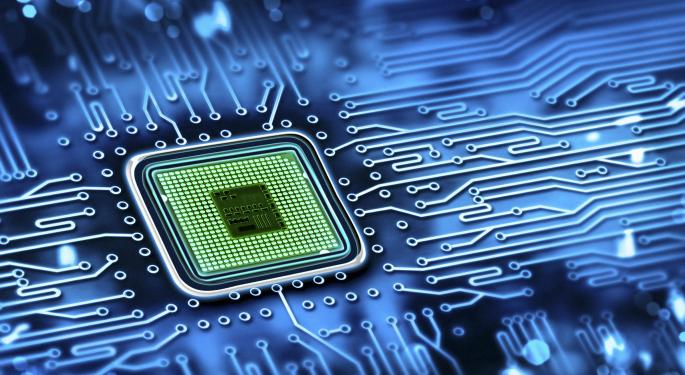 Cypress Semiconductor Corporation (NASDAQ: CY) and Spansion Inc. (NYSE: CODE) announced their plans to merge late Monday, December 2, boosting the value of both companies.
Analysts were fairly happy with the news, prompting many to issue an upgrade.
"I think it's a good merger between the two companies," Pacific Crest Securities analyst Monika Garg told Benzinga. "It definitely gives them scale."
Wedbush analyst Betsy Van Hees also had praise for the merger.
"I think it's very positive for both the companies," Van Hees told Benzinga. "I look at it as a great marriage. There's not a lot of overlap in products, but there's a lot of cross-selling that they'll be able to do."
Related Link: Hasbro-DreamWorks Merger Is 'Interesting' And 'Irrational'
On Par With Micron?
Sean Udall, CIO of Quantum Trading Strategies and author of The TechStrat Report, thinks the Cypress-Spansion merger looks somewhat familiar.
"A couple years ago Micron bought a company called Elpida," Udall told Benzinga. "That basically…changed the industry dynamics in the memory market. Micron, at the time, was a sleepy $8 to $10 stock -- maybe at the low teens."
Micron currently trades above $35.
"The stock has gone up three-fold (maybe even four-fold) since that deal," said Udall, adding that he doesn't expect the Cypress-Spansion deal to be as Earth-shattering to the industry. "But for Cypress Semiconductor itself, I'm calling this deal a mini Micron-Elpida. They bought the company, they didn't pay a huge price. [Spansion] has a lot of good technology, a lot of good assets. They're in the memory market, which is a good growth market. It's a good synergistic deal."
Udall thinks Cypress' initial spike could be just the beginning, but Van Hees doesn't believe this deal is at all similar to Micron's merger with Elpida.
"It's completely different because you've got…two markets that are declining and you don't have any demand growth drivers," said Van Hees. "It's very different than what's going on with the Micron and Elpida and consolidation. That's not what's happening. You're not consolidating suppliers."
Related Link: Nomura: Intel's Outlook A Positive For Micron
Overhead Reduction
Though it may never match the success of the Micron-Elpida merger, Van Hees expects Cypress and Spansion to enjoy a number of benefits.
"They're going to be able to get rid of a ton of overhead," she said. "They're going to get rid of sales, they're going to get rid of marketing. They're going to be able to, as they talked about on the call, combine headquarters. They're going to be able to move manufacturing around. I just think it's going to take a long time to realize the big synergies (which is going to come from the manufacturing) to get those gross margins up."
Disclosure: At the time of this writing, Louis Bedigian had no position in the equities mentioned in this report.
View Comments and Join the Discussion!
Posted-In: Betsy Van Hees Monika Garg Pacific Crest Securities Sean Udall WedbushTop Stories Exclusives Tech Best of Benzinga