Uber's Embarrassing PR Problems Haven't Affected Its Valuation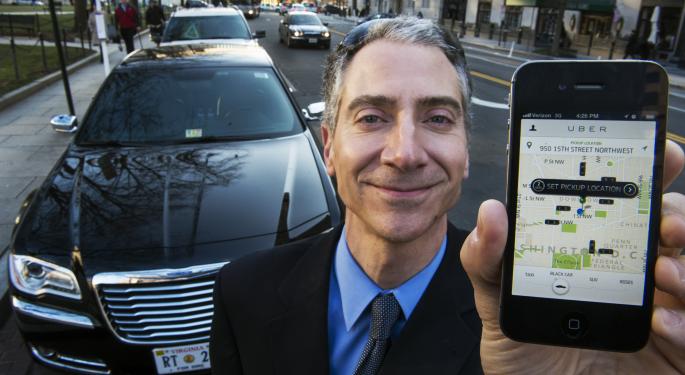 On its surface, Uber looks like a star. The company is valued at roughly $18 billion, making it one of the hottest startups in the world. Investors have poured more than $1 billion into the firm, hoping to benefit from an industry that challenges traditional taxis.
Lyft, Uber's nearest competitor, has raised $332.5 million.
Will these investments pay off? Uber's revenue came in at $213 million last year on more than $1 billion in gross bookings. If the reports, controversies and lawsuits are true, Uber will do virtually anything to ensure those numbers continue to grow.
Related Link: Alcoa Inc Could Benefit From F-150, 'Massive Trend' Toward Aluminum Automobiles
Attacking The Competition With Fake Orders
Uber contractors reportedly ordered and canceled 5,560 rides between October 2013 and August 2014. According to The Verge, Uber gave the contractors burner phones and credit cards to implement this strategy, which has made it difficult for Lyft to gain traction in new markets.
Political Tactics Vs. Unsatisfied Reporters
Uber got into trouble this week when Emil Michael, the firm's senior VP of business, told Uber employees (and a BuzzFeed reporter, among others) that they should dig up dirt on reporters that criticize the company. This sort of tactic (known as "opposition research") is typically reserved for politicians looking to smear the competition.
Michael later apologized for his remarks.
Lying To Employees
Uber has texted some drivers to let them know that they cannot legally work for any competitors. The New York Taxi and Limousine Commission told CNNMoney that is not true -- drivers can work for both services.
Stealing From Employees
Uber has been accused of taking as much as 50 percent of drivers' tips.
Confidential Data
A former Lyft executive is being sued for taking confidential data to Uber.
Surge Pricing By Force
Uber reportedly keeps drivers off the road to encourage surge pricing, which leads to higher fares.
'Growth Does Not Equal Innovation'
Despite the many controversies (some of which cannot be found in this article), Uber is still loved by many consumers and also within the media. There is at least one exception, however.
"Growth does not equal innovation," Fast Company wrote in a post about why Uber did not appear on its list of most innovative companies. "Uber's relentless brand of hypergrowth is causing its service experience to suffer, leading to poor decisions on how it treats its drivers, local regulators, and, most important, its customers."
Disclosure: At the time of this writing, Louis Bedigian had no position in the equities mentioned in this report.
View Comments and Join the Discussion!
Posted-In: CNNMoney Fast Company Lyft UberTop Stories Tech Media Best of Benzinga