3 Startups That Could Bolster PayPal's Business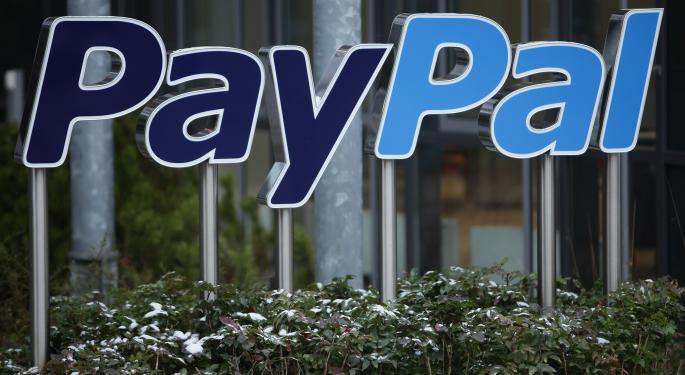 The online payments space has become increasingly crowded in the last few years. Devices and startups have mushroomed to challenge PayPal, Inc.'s dominance.
In response, the San Jose-based company has pursued an aggressive growth strategy, launching new products and partnering with existing players in the market. The company acquired Braintree last year and has inked partnerships with a number of payment service providers, such as NCR and Micros.
To stay competitive, however, PayPal needs "to have distribution (in the mobile and offline payment services space)," says Chris Ciabarra, chief technology officer at Revel Systems, a payments startup. Paypal's focus on the online space has become outdated, as customers use a variety of devices and modes to conduct payment transactions.
Related Link: How China Could Be The Future Of 3D Printing
One way PayPal could broaden its reach is through M&A, and with its recent split from eBay Inc (NASDAQ: EBAY), the company is free to acquire (or get acquired). Here are three startups that might be interesting acquisition candidates for Paypal:
Square
Perhaps the most well-known startup working in this space, Square was founded by Jack Dorsey, who co-founded Twitter. It pioneered the use of Square card readers, a dongle that is attached to smartphones to accept and process payments for small businesses and artistes.
The startup has been referred to as a "darling of Silicon Valley investors" and has inked major partnerships with Starbucks Corporation and Whole Foods Market, Inc.; raised enormous amounts of cash; and was last valued at $6 billion.
That growth has come at a cost.
Last year, Square burned through $100 million. This year, it borrowed another $100 million from a bunch of well-known investment firms, including Goldman Sachs Group Inc and JPMorgan Chase & Co. According to reports, this either means the startup is in dire straits or intends to preserve its valuation without raising more cash.
Either way, an acquisition by deep-pocketed Paypal could be a win-win situation for both companies. Paypal would gain access to Square's reported customer base of 300,000 small businesses (including 30,000 retailers), and Square could use Paypal's capital to expand its customer base and add features to its flagship product.
Revel Systems
San Francisco-based Revel Systems is an ideal mix of hardware and software. The company sells POS systems to small businesses and retail establishments. Loaded with their software, the POS systems provide an array of sophisticated services services to customers, such as CRM and processing.
Unlike Square, Revel claims to be profitable since 2012 and reported $20 million revenue last year. This represented a growth of 250 percent on a year-on-year basis. It has also secured partnerships with retail chains, such as Dairy Queen.
True, Revel lacks Square's high profile and customer list. Square's customer list may not be the advantage it appears to be, however; Ciabarra explained to Benzinga that Square has customers that "no one wants." A PayPal acquisition would enable the startup to scale operations (last year, the company brought on two Asia-based investors and stated that their addition reflected the startup's "larger goals").
A PayPal acquisition would enable the startup to scale operations. Simultaneously, an acquisition would enable Paypal to move farther along the payment value chain and provide sophisticated services (such as CRM) to its customer base. In an increasingly crowded space, such services will distinguish the service from other similar services.
Stripe
Along with Square, Stripe is another Silicon Valley darling. Started by alums of Y Combinator, arguably the most prestigious incubator in the world, the four-year-old company offers a service that is superficially similar to Paypal's. A key difference, however, lies in the fine print: Stripe does not have any. As a result, there are no additional charges and the service has an open API enabling integration with internal systems.
Stripe is present in 15 countries and accepts 140 different currencies. Developers swear by the service, and it was last valued at $1.5 billion. However, Stripe has not publicly released figures related to its business lending credence to the possibility that the service may be nothing more than an over-hyped Silicon Valley startup.
Considering that Stripe is bankrolled by PayPal founders, the case for an acquisition is a weak one. Stripe, essentially, is PayPal simplified. However, Stripe's technology chops and processes might strengthen Paypal's internal technology and processes. In addition, the acquisition could bring along a valuable customer constituency -- developers -- to Paypal's side.
Posted-In: FintechBZ PayPal Revel Systems Square StripeTop Stories Startups Best of Benzinga
View Comments and Join the Discussion!