Why Is Samsung Halting Laptop Sales In Europe?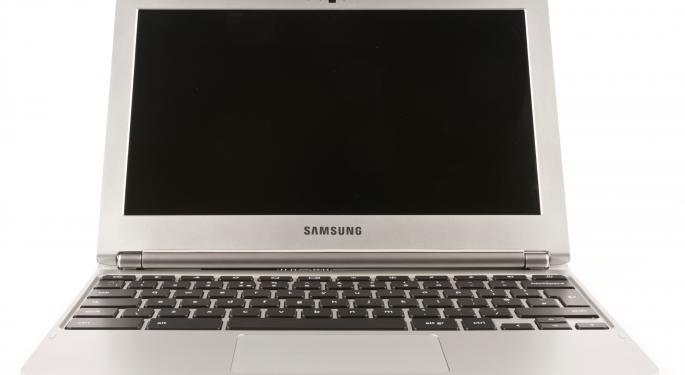 Samsung (OTC: SSNLF) plans to stop selling laptops in Europe in the near future.
According to The Wall Street Journal, the adjustment is specific to Europe and does not have anything to do with market conditions in other regions. This suggests that the market conditions aren't great in Europe, but a recent report showed that notebook sales grew 7 percent in Western Europe last spring.
Whatever Samsung's reason may be, the news might come as a surprise to consumers who are used to seeing the Samsung brand on virtually every type of electronic device.
"Samsung's market share in Europe isn't fantastic for laptops, and that is the big driver there," IHS Technology Senior Analyst Daniel Gleeson told Benzinga. "The laptop market and PC market have extremely thin margins. Essentially, that's why Sony ditched its laptop business."
Related Link: How Much Will Apple's Retina MacBook Air Cost?
Dan Miller, senior analyst and founder of Opus Research, thinks this is a defensive strategy.
"They've been engaged in patent battles," Miller told Benzinga. "They've been engaged in price wars. They have to draw certain battle lines. One of the disadvantages of being an OEM…is you're always going to be engaged in price wars and competition."
Gleeson said that it is ultimately an issue of scale.
"Samsung clearly doesn't have the scale in Europe to make its marketing efforts and product and development efforts worthwhile," Gleeson added.
'Smart' Move For Samsung
Sean Udall, CIO of Quantum Trading Strategies and author of The TechStrat Report, applauded Samsung's decision.
"This is smart for them to do," Udall told Benzinga. "If they're not making money on PCs and they're not doing well in PCs, they gotta start reducing the manufacturing of those and cutting inventory. My guess is they probably have an inventory problem with their PC line. Either they're not selling fast enough or they're not making enough money, so they're cutting the product."
Udall expects Samsung to cut other product lines in the coming years.
Disclosure: At the time of this writing, Louis Bedigian had no position in the equities mentioned in this report.
Posted-In: comments Dan Miller Daniel Gleeson IHS Technology Opus ResearchTop Stories Economics Tech Best of Benzinga
View Comments and Join the Discussion!