Apple Inc.'s Record-Breaking iPhone 6 Sales The Result Of 'Pent-Up Demand'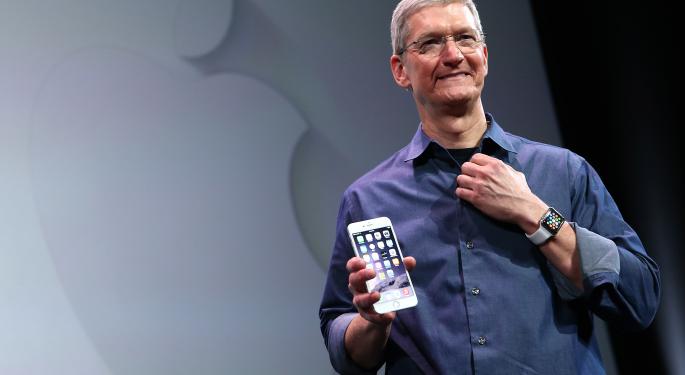 Apple Inc. (NASDAQ: AAPL) announced that it sold more than 10 million new iPhones this past weekend, setting a new record for the company.
"I think the numbers share the strength of the pent-up demand and also of the platform," Patrick Moorhead, president and principal analyst at Moor Insights & Strategy, told Benzinga. "There was pent-up demand in two ways: first was for a brand-new phone, the second was for people waiting for a much larger display that they saw through the leaks."
BTIG analyst Walter Piecyk told Benzinga that first weekend sales have more to do with Apple's supply chain than anything else.
Related Link: iPhone 6 Pre-Order Record Points To 'Several Years' Of Ongoing Growth
"I think given the amount of demand that exists in the global market for the product, presumably… the biggest challenge Apple has is what they can make," said Piecyk. "We're talking about moving 10 million units or over $7 billion in revenue in three days, which is impressive no matter what industry you're looking at."
Big Sales In 'Awkward' Markets
Another analyst (who is not allowed to speak to the press and did not want to be quoted by name) expected big sales after conducting a few channel checks.
"My initial channel checks over the weekend were very positive, even in some very strong and awkward markets," the analyst told Benzinga. "Strong markets being Atlanta, awkward markets being some very rural towns around Atlanta which, historically, never have had lines -- ever!"
Understated Demand?
Argus Research analyst James Kelleher told Benzinga that the iPhone 6's limited availability makes it difficult to understand Apple's sales figure.
"For instance, a lot of [those] who probably ordered the phone can't get the phone," said Kelleher. "When I walked into an AT&T, the guy said, 'I'll give you a call when it's available.' So I could have pre-ordered it, but didn't pre-order it."
Regardless, Kelleher thinks that Apple's sales are "encouraging."
"It's higher than the 5S and 5C," he said, adding that it will be interesting to see how the rest of the quarter plays out. "A lot of people that might have pre-ordered didn't bother because you have to pay up front to pre-order. But if the phone's not going to be available for four weeks, why pay today? Why not wait four weeks and then pay? The 10 million probably understates."
Big Sales To Come
Pacific Crest analyst Andy Hargreaves did not have any comments Apple's sales Monday, but he said that his fiscal 2015 expectations remain unchanged.
Hargreaves expects Apple to sell 190 million iPhones in the coming year. He estimates that most of them (128 million) will be from replacement sales, while 62 million will be from new iPhone users.
Disclosure: At the time of this writing, Louis Bedigian had no position in the equities mentioned in this report.
Posted-In: Andy Hargreaves comments iPhone 6 iPhone 6 Plus James Kelleher Patrick MoorheadTop Stories Tech Best of Benzinga
View Comments and Join the Discussion!