Why Apple Pay Comes At A Good Time For Millennials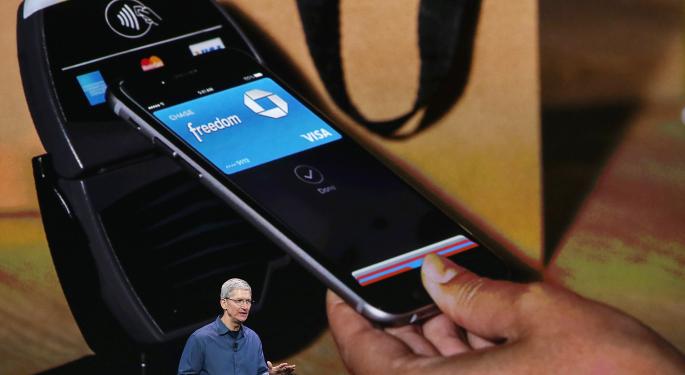 Apple Inc. (NASDAQ: AAPL) is about to enter a new market with Apple Pay, the company's first foray into payments.
The Cupertino, California-based tech giant could have a big impact on the industry, but it may also be good for young consumers.
"One of the problems that the Google Payment initiative has had is that they sort of threw it out there and hoped traction would gain," Sean Udall, CIO of Quantum Trading Strategies and author of The TechStrat Report, told Benzinga. "Well, payments is really hard. This is a sticky industry. Credit cards and debit cards already work really well. To disrupt that, you have to have something that's just as fast and theoretically works just as well and in some way is better."
Related Link: 3 Competitor Reactions To Apple Inc.'s iPhone 6
Udall said that Apple has taken all of the pieces -- the right device, the right security and the right partnerships (with payment processing companies) -- and brought them together. Apple also successfully partnered with a number of retailers, including Starbucks Corporation and McDonald's Corporation.
"More retailers will join," Udall said confidently. "They have a lot of retailers that are going to adopt this."
Udall warned that if any retailers are resistant at first, they will realize they need to come aboard after taking a look at the sales results.
Good For Millennials
Millennials are not big fans of credit cards, but Udall said they don't fear using a device to pay for something electronically.
"Especially if they trust the device and they trust the platform," he said. "What they're going to have to pay attention to over time is making sure their security solution is really strong, but Apple is really good at that. Their security is pretty much better than everybody else. That's going to be the Holy Grail –- they're going to make sure, they're going to stay on top of security, and as long as the solution stays secure, I think this thing will be broadly accepted."
Udall expects millennial traction to be the strongest for Apple Pay.
"But I think this is going to be broader than that," he added. "You'll definitely see more people than millennials adopting this Apple Pay technology."
Related Link: iPhone 6 Pre-Order Record Points To 'Several Years' Of Ongoing Growth
The PayPal Threat Still Lingers
Apple may have a powerful payment solution, but its chief competitor is still a threat.
"PayPal is much better positioned to do the pay thing than Apple is," Rob Enderle, principal analyst at Enderle Group, told Benzinga. "They can move across vendors. They're not going to be centric to one phone."
Enderle said that PayPal has already achieved "critical mass" with consumers who have used the service with eBay Inc (NASDAQ: EBAY) and other online retailers.
"eBay and Amazon are in a dead heat to try to get those secondary properties up and running, so they're much closer to where Apple wants to be than where Apple is with their service," Enderle added.
With regard to the Google-eBay merger rumor, Enderle said that Google Inc (NASDAQ: GOOG) (NASDAQ: GOOGL) wouldn't buy into eBay just for PayPal.
"You do eBay because you really want eBay and recognize that when it comes to online commerce, it's really only matched by Amazon in the market," Enderle asserted. "But I think this probably also goes to how they're justifying this amount of money. They basically get two hits with this one purchase. They get a much more solid position in this online payment space than they could hope to get organically."
Google tried to achieve organic growth with its own social network, Google+.
"Facebook is still vastly more powerful than they are," Enderle added. "I think they learned from that lesson and realized that they're going to have to buy critical mass. Growing to critical mass just isn't working for them."
Disclosure: At the time of this writing, Louis Bedigian had no position in the equities mentioned in this report.
Posted-In: Apple Apple Pay comments EBAY PayPalTop Stories Economics Tech Best of Benzinga
View Comments and Join the Discussion!