Will Piracy Weigh Down Adobe Systems Incorporated?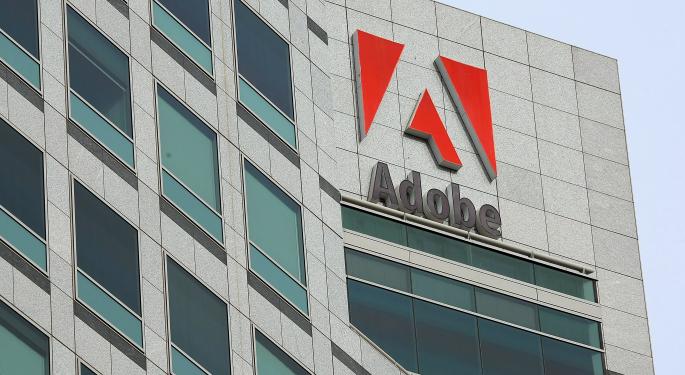 For Adobe Systems Incorporated (NASDAQ: ADBE), earnings season is here. All eyes are on the company's online subscription service, Creative Cloud, which has gained subscribers every quarter since Q2 2013.
The service hasn't been foolproof, though.
Hackers successfully pirated Photoshop CC one day after it was released, allowing consumers to download and use the software without logging in. Adobe has said that it did not create its cloud service to curb piracy, noting that pirates will always find a way to get what they want.
Some bloggers have sent the opposite message, telling readers that Adobe "just killed your ability to pirate Photoshop."
Related Link: Is The Former Adobe CTO Behind Apple 'Swift'?
Piracy: Up Or Down?
Adobe may not have developed Creative Cloud to stop piracy, but the company has been quick to brag about the related benefits. Fabio Sambugaro, Adobe's Area VP of Enterprise in Latin America, recently told BNamericas that piracy has fallen in Latin America.
"Piracy has fallen," he said in July. "It's hard to measure, but we've seen many companies seeking partnerships that in the past wouldn't have done so."
Andre Swanston, co-founder and CEO of Tru Optik (a startup that provides real-time and predictive audience intelligence for the media, entertainment and advertising industries), begs to differ.
"We have the data, and there actually is no decrease in terms of the amount of piracy over the last six months," Swanston told Benzinga in August. "We've actually seen that, for some of their solutions, piracy was actually higher in June than it was in February or January."
Related Link: Morgan Stanley Sees Mixed Factors For Adobe
Swanston said that Adobe has no way to measure piracy levels, noting that the company's remarks are "just a guesstimate."
Improving With Time
Sterne Agee analyst Robert Breza expects Adobe's piracy problem to improve, but it could take a while.
"It's going to take a few quarters because people who are running the old version of Photoshop can still get a pirated disc," Breza told Benzinga. "I think Microsoft is the most pirated software company on a relative dollar basis. You have to look at it dollars versus subscribers. But Adobe is probably number-two."
Sean Udall, CIO of Quantum Trading Strategies and author of The TechStrat Report, told Benzinga that the Creative Cloud initially "caused a lot of consternation with the stock." Udall adds, "I believed that transition would work really well," recalling the service's earlier days. "And it did," he says.
From a subscriber perspective, the Creative Cloud is doing well -- but will the piracy issues continue?
"There are ways to spoof an ID and spoof a device ID address," Breza warned. "But that's just a lot of work. Then again, if (historically) you've pirated it, maybe that's the length of turmoil you go to."
Disclosure: At the time of this writing, Louis Bedigian had no position in the equities mentioned in this report.
Posted-In: Adobe Creative Cloud Photoshop Robert Breza Sean Udall Sterne AgeeTop Stories Tech Best of Benzinga
View Comments and Join the Discussion!