Why Entrepreneurs Don't Want IdeaMarket To Fail ... Again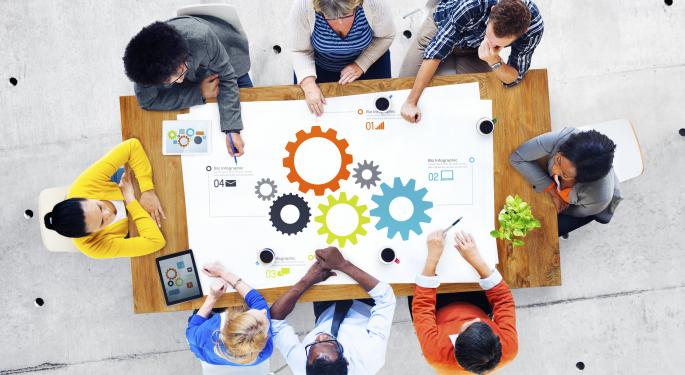 Entrepreneurs have a new outlet.
Seventeen years after its first try failed, Bill Gross has brought forth IdeaMarket. As the company's website puts it, "a curated crowd-sourced marketplace for ideas that solve everyday problems and uncover interesting new opportunities."
Fortune reported that people who submit ideas are compensated with a 5 percent equity stake in the company.
"People who contribute to the idea through IdeaMarket are eligible to get a small stake as well," the report said. "Early investors get 10 percent to 20 percent, Gross says, and the majority of the company's equity goes to the entrepreneurs who execute the idea."
Related Link: 3 Must-Read Startup Tips From The CEO Of Fathead
So will entrepreneurs, startup lovers and other creatives jump at the chance to share and curate ideas?
"I think there is a market for IdeaMarket," Dave Anderson, co-founder of Bamboo Detroit, told Benzinga. "Since Mr. Gross is planning to invest in IdeaMarket companies, it seems like an interesting/innovative way of identifying talent and sourcing deals for his firm. Most successful investors invest in people, not ideas. So, why not have a marketplace that aims to pair good teams with good ideas?"
Josh Linkner, CEO of Detroit Venture Partners, said he is big fan of Gross and thinks IdeaMarket could be "very powerful."
"Startups are formed from a combination of three things: 1) capital, 2) great ideas, and 3) talented people to execute," Linkner told Benzinga. "The traditional model is: an entrepreneur brings No. 2 and No. 3 to a VC and we back that person to build a company."
Linkner pondered that an idea may not always be executed from just one person: "However, who's to say that the best ideas are in the same person [who's] the best leader to actually build the business?"
SocialKNX CEO Gina Schreck told Benzinga she had an app-based idea four years ago where people could vote on a product (not strictly a startup business) and offer funding. Similarly, Anderson said IdeaMarket "should set up a rating system for ideas (similar to Product Hunt), so entrepreneurs can identify the best ideas most likely to get funded."
"I do love the idea of a place where people can come, get the nurturing and support needed to get a business moving from that initial idea stage," said Schreck.
Stolen Ideas?
There is some concern with crowdsourcing ideas, however.
"It could work, but creating sustainable businesses is all about the execution right? It would be great to see a lot of support (mentorship, access to talent) around this," Amanda Lewan, editor of Michipreneur, told Benzinga. "I would really need to see the marketplace in action to get a better sense of how it might help foster and accelerate entrepreneurship. I would want to see it [IdeaMarket] in action before participating."
Michiprenuer publishes news, resources, events, funding information and more for Michigan startups and businesses.
Related Link: Diamond Dallas Page - From Pro Wrestler To Yoga Entrepreneur
Schreck said, "unless there is a way to protect an idea before it goes out to the world, there will be fear. After all, some ideas have been simmering for years and the thought that it could be snapped up by someone else is painful."
Anderson doesn't value the concept of "ideas" too much.
"A team's ability to execute on an idea is the only thing that matters," he said.
Linkner -- who recently wrote "The Road to Reinvention: How to Drive Disruption and Accelerate Transformation" -- applauded the concept as putting an end to the old way of doing things.
"I see Gross' vision as de-coupling an age-old practice and allowing companies to be formed more elegantly with the ideal mix of capital, ideas, and talent."
Posted-In: Bamboo Detroit Bill Gross commentsEntrepreneurship Top Stories Success Stories Startups Small Business Best of Benzinga
View Comments and Join the Discussion!