Google Vs. Amazon: The Drone Wars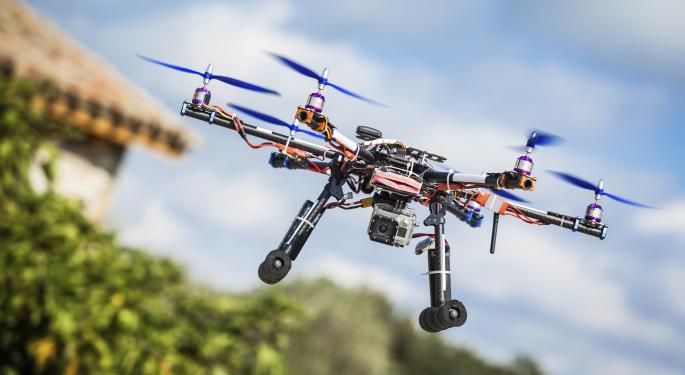 Google Inc. (NASDAQ: GOOG) (NASDAQ: GOOGL) and Amazon.com, Inc. (NASDAQ: AMZN) are ready to change the world with various drone initiatives. Can they do it -- and if so, who will come out on top?
"I would almost always bet [on Google] on almost everything if it's versus Amazon," Sean Udall, CIO of Quantum Trading Strategies and author of The TechStrat Report, told Benzinga.
"Even though Amazon has been amazing, I'm pretty much gonna go with Google. Does that mean Amazon couldn't find a way to invest in drones, create drones and utilize them for their own express purposes of delivery and whatever tasks they want them to perform? Absolutely not. But I think if you're talking a broader, more penetrating drone play, I would probably bet Google."
Related Link: Can Amazon Rise To Google's Level?
Long-Term Advantage
John Cole, founder of Dexter Industries, thinks that Google will lead but only in the beginning.
"Google certainly has a more integrated data strategy," Cole, who also serves as Dexter Industries' lead engineer, told Benzinga. "They've got geolocation data and they've got your Wi-Fi data and everything else. I think they'll be able to put out a much more useful product."
Last spring Cole launched GoPiGo, a Kickstarter-funded robot kit for Raspberry Pi. The kit allows consumers to turn their Raspberry Pi into a wide variety of robots, including drones.
"Amazon is the end consumer," Cole continued. "They probably have a tighter loop for development. In the short run, Google will come out with something better. But in the long run, Amazon will definitely win on that."
Cole said that Amazon has the "long-term advantage" because the company owns the customer.
"They're starting to dominate other industries and they're starting to dominate other pieces of technology where they have a direct link with the customer," he added.
Lengthy Development Cycle
Investors may not want to get their hopes up for a drone revolution just yet.
"I think they're years and years away," Brett Golden, president and co-founder of The Chart Lab, told Benzinga. "I don't know how they'll navigate all the nuances of actually being able to deliver products with these drones. Is it going to be capable in the future? Probably."
Related Link: 5 Little Known Things About The Twitch-Amazon Deal
Industry expert Jeff Kagan was also skeptical about the near-term success of any drone projects.
"I think the drone revolution that we're seeing begin lately is exciting to watch, but I don't see it amounting to anything yet," Kagan told Benzinga. "I think it's going to be all in R&D stages for a while because it's not just a good idea, it also has the other side of the coin -- it's dangerous."
Kagan noted that, unlike personal drones owned by consumers (which have their own set of risks), Amazon and Google's drones would be auto-controlled by GPS.
"These are devices that are out of sight, out of mind," he said. "They could crash into each other, into trees, into billboards, into people, into cars. They could crash into buildings and rain down on top of people."
These are just some of the problems that Google and Amazon must overcome before its drones will be allowed to fly freely.
"We're not there yet," Kagan added. "It could be years before we are. I think today it's just R&D. It's fun to watch and explore what could happen next. But I don't think it's going to add up to anything in the real world for a while."
Disclosure: At the time of this writing, Louis Bedigian had no position in the equities mentioned in this report.
Posted-In: Amazon Brett Golden comments Dexter Industries Google GoPiGoTop Stories Tech Best of Benzinga
View Comments and Join the Discussion!