An Apple-Pandora Merger Would Be A 'Scary Combination'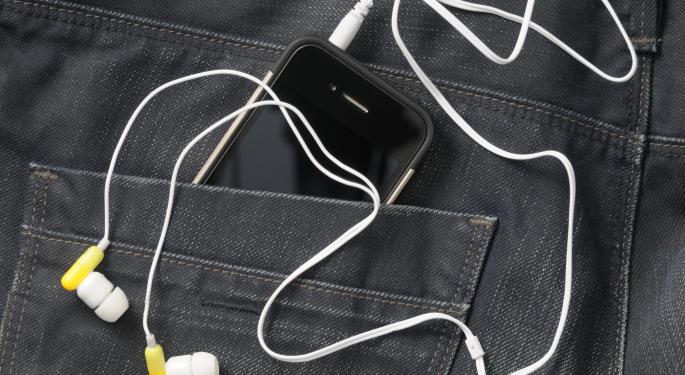 Before Apple (NASDAQ: AAPL) officially acquired Beats Electronics, many analysts speculated about alternative mergers.
Spotify was one of the first companies that came up, followed by Pandora (NYSE: P), Bose and others within the music business. Now that the Beats deal is over, further merger speculation has died down, but Quantum Trading Strategies CIO Sean Udall is still hoping for more.
"I'd still like to see Apple do something and add one more asset," Udall, who authors The TechStrat Report, told Benzinga. "I think Apple plus Pandora would be a scary combination for the rest of the competitors in that space."
Related Link: Apple Is 'Uniquely Situated' To Revolutionize Mobile Commerce
As it stands, Udall thinks that Apple acquired a pretty good premium audio product when it purchased Beats.
"I think Apple will be able to improve on that," he said. "I don't think it was a terrible merger. I think it was a deal that they can take and improve [the product lineup] massively. I think the Beats deal will be a huge success because Apple will improve the services that they offer."
Pandora Vs. Beats
Michael Peterson, North American marketing director for Hercules (a digital audio solutions developer), told Benzinga that while Pandora is not as trendy as Beats, it offers a better platform.
"I think Pandora has created a really good understanding of how to work advertising, how to sell it, how to use ads and work brands and build brands through its platform," he said. "Obviously Apple would benefit greatly from that. Spotify [is still] figuring out their monetizing strategy. I think Pandora is more stable at what they're doing."
Peterson said that if Apple acquired Pandora, the two companies "would do well."
"Beats Music is a baby in comparison," he added. "Pandora is a much better buy. But I'm sure they have enough funds to purchase whatever they would like to. Strategically, I'm pretty sure that other streaming services are on the radar for Apple."
A 'Great Deal'
Udall said that he can make the case that Apple should "just suck it up and buy Pandora."
"I think it would be a great deal for Apple," he said. "They'd get their money out of it, they'd really shock the industry, they'd really stiffen up the competition."
Related Link: Apple Could Destroy This Startup In One Move
If that did happen, Udall questions how Apple's competitors may respond.
"What would Google, Amazon have to do?" he wondered. "What could they do? You've got Sirius XM out there. How much of a challenge would that pose to them long-term? Would they have to respond and try to do a deal with somebody else? We'll see what happens. Apple has not shown that they want to do very many big deals, but that Beats deal could be a sign that the company's willing to do more aggressive, strategic M&As."
Risks Remain
The Apple-Beats deal may be done, but that doesn't mean it will be a surefire hit.
"We've seen a lot of streaming services come and go, and we've seen them do well and not so well," said Peterson. "I think Apple sits in a very distinct place where they're enabled to kind of create innovation in this space. I think it's a product sector that's going to continue to grow pretty consistently and very rapidly over the next five years."
Disclosure: At the time of this writing, Louis Bedigian had no position in the equities mentioned in this report.
Posted-In: comments Hercules Michael Peterson Pandora Quantum Trading Strategies Sean UdallTop Stories Tech Best of Benzinga
View Comments and Join the Discussion!