Exclusive: Paychex CEO Martin Mucci Reveals 2 Elements Of The Growth Story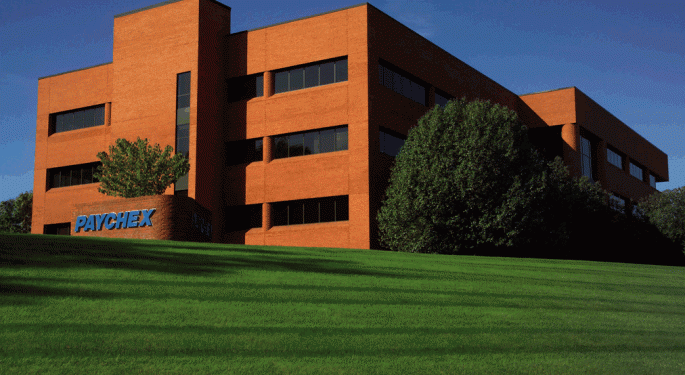 Note: This is the first of a two-part series. Stay tuned for Martin Mucci's comments on M&A activity.
Paychex (NASDAQ: PAYX) is known to most investors simply as one of two major payroll companies. Furthermore, most regard the stock as a stable but slow bet that pays a steady dividend.
In an exclusive interview with Benzinga, Paychex CEO Martin Mucci revealed that there is much more to the business, including massive growth opportunities.
1. Services
With an extensive number of relationships with small and midsize businesses across the country, Paychex has been able to quickly expand in the services business. In 2014, services revenue jumped by six percent.
"Payroll was always the lead," stated Mucci. "Our process was to sell payroll to midsized businesses, and then once we have developed relationships we sell other services… all sorts of insurances, workers comp, health, 401(k), etc."
Related: Three Reasons Why Paychex Is A Warren Buffett Stock
One of the most active segments of the services business is human resources, which saw 12 percent 2014 sales growth. "HR support has become a very big part of our business. It continues to grow and is probably the fastest growing [segment], particularly in this last quarter and last half of the year, and I think we will continue to see that."
Mucci explained that Paychex currently has 400 human resources professionals working primarily with companies that have between five and 100 employees.
2. Payroll
Paychex has also had significant success growing its traditional payroll business, recently showing the fastest growth in seven years. Mucci commented on growth catalysts.
In terms of macroeconomic trends, "we are seeing employees being added to small businesses, so that is certainly helping us." Specifically, there has been a lot of strength in start ups. Investors looking for more insight on small business hiring should reference the Paychex IHS Small Business Index.
Regarding management's contribution to growth, the chief executive stated that the company has put several growth initiatives in place. These include expansion into new territories, increased referrals from banks and maintenance of strong CPA relationships.
Shares of Paychex have picked up 1.1 percent since the company announced fourth quarter 2014 results on July 1.
Posted-In: Martin MucciTop Stories Interview Best of Benzinga
View Comments and Join the Discussion!