6 Stocks Expected To Get Rocked By Hurricane Arthur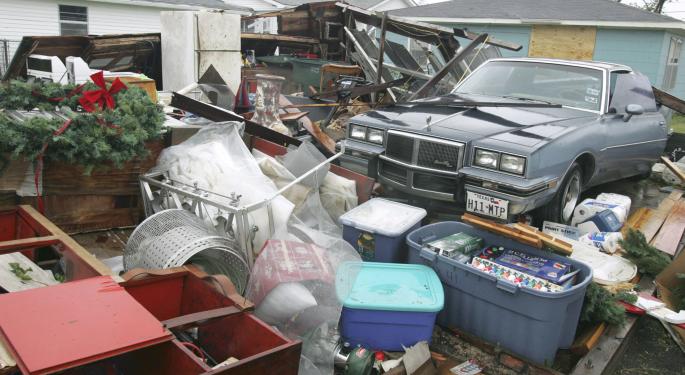 Hurricane Arthur is spinning its way to North Carolina. While the storm may threaten some stocks, it is likely to kick others into high gear.
Generac Holdings
This manufacturer of generators got a 52 percent jump in share price at the end of 2012 when Hurricane Sandy slammed into the eastern seaboard.
Although Hurricane Arthur is unlikely to be nearly as bad as sand, Generac (NYSE: GNRC) has shown life during hurricanes in the past.
Traders started bidding up the stock during Thursday's short trading session as they head into the long weekend.
Home Depot
Home Depot (NYSE: HD) is the obvious play for any sort of natural disaster. The fundamental play is very simple: as governments, businesses and individuals repair damaged structures, many of them source materials from Home Depot.
Although shares may get a small bump in price from the hurricane, traders looking for a high risk, high reward play should not choose this stock. To put the stock in perspective, Home Depot's 2013 sales were 53 times higher than Generac's.
Lowe's
The play in Lowe's (NYSE: LOW) is similar to that of Home Depot. One difference is in the saturation of of stores. Home depot stores have more of a presence in North Carolina, for example, and Lowe's has more stores on Pennsylvania's peninsula.
The intensity of the storm at different locations will determine if the bigger impact is on Home Depot or Lowe's. Investors should also note that Home Depot is a much larger company, so regional sales are likely to have less of an impact.
Related Link: 3 Reasons The 'Recovery' Will be Challenged Through 2015
Everest Re Group
Everest Re Group (NYSE: RE) is a reinsurer, meaning that the company insures the insurance companies. If insurance companies do, infact have to payout massive sums of money, as was the case with Sandy and Katrina, reinsurer stock will be very active.
Partnerre (NYSE: PRE) is a similar play.
In the time surrounding hurricane Sandy, shares of Everest rose nearly 20 percent.
American International Group
This is another obvious play. AIG (NYSE: AIG) is one of the largest insurers in the country with 88 million customers across the globe. Despite AIG's massive size, shares have been very reactive to past disasters.
Sticking to the comparison with hurricane Sandy, AIG shares gapped up as much as 31.5 percent from trough to peak. Investors look to be driving the stock slightly higher into the extended weekend.
Posted-In: Hurricane ArthurTop Stories Trading Ideas Best of Benzinga
View Comments and Join the Discussion!