Gold And Gold Miners Give Up 2014 Gains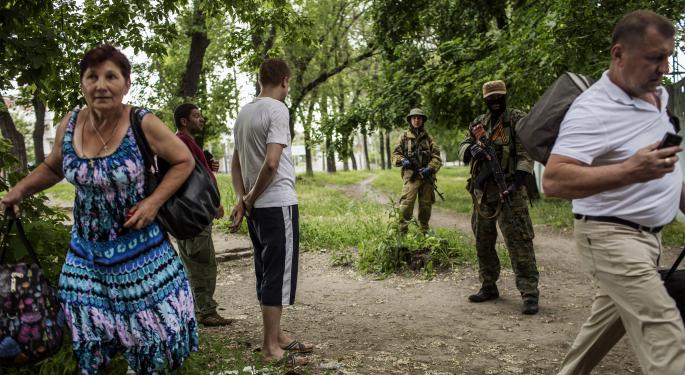 Gold is melting down Tuesday and bringing miners down with it.
A key catalyst driving down the price in gold is the successful presidential election in Ukraine. Presidential elections held on Sunday were widely opposed by pro-Russian supporters, leaving the investing community concerned that intense fighting in the country would increase instability.
Pro-Russian supporters blocked some from voting, but the elections were widely regarded as a success and Vladimir Putin recognized the vote.
Related: Best Stocks Under $5 Right Now
Because this success is seen as taking risk out of the region, investors are able to transfer funds from gold to equities, while maintaining a similar risk level in their portfolio. In addition, the value of the Ruble is up 0.62 percent Tuesday versus the dollar, indicating that Russian entities and traders are selling gold for Rubles. The opposite was seen at the outbreak of the conflict.
Gold is often used as a hedge against inflation and equity downturns. The USDX is up more than half a percent over the past five trading sessions and major indexes are trading near all-time highs, reducing the appeal of the commodity.
Gold futures were last trading down more than two percent to $1,266.10; this is the lowest gold contracts have traded since the beginning of February. Although significantly down from its $1,392.6 2014 high, contracts are still up 5.7 percent since opening the year.
Gold miners, who typically move in tandem to the price of gold, are down 3.69 percent according to the Market Vectors Gold Miners ETF (NYSE: GDX). This is the lowest miners have been trading since January, after peaking at a 31.24 percent gain earlier this year.
The $23 level had been acting as support for GDX for the entirety of the year, however, this level was breached Tuesday, increasing the downside risk.
Junior gold miners, who are more sensitive to a move in gold price because they are less able to weather a downturn in price, are down more than five percent Tuesday.
Miners have been working at lowering their cost to mine an ounce after 2013's downturn in price, with larger operators generally having more success. Despite the announcement of cost reductions in the first part of 2014, miners are currently trading at a very small premium to the movement in gold price.
Posted-In: GoldCommodities Top Stories Markets Trading Ideas Best of Benzinga
View Comments and Join the Discussion!