Drone Video Shows Tesla's New Casting Machine May Already Be Running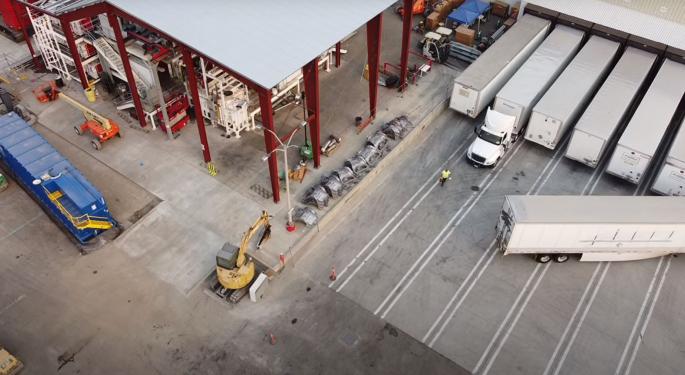 Tesla Inc (NASDAQ: TSLA) has been busy installing a giant press to more quickly and efficiently build the new Model Y at its Fremont, California factory.
While the rear casting of traditional cars can approach 100 pieces, the Model Y was down to two, and CEO Elon Musk says this new machine will bring it down to a single piece.
The giant press was spotted being installed at Tesla's Fremont factory in August.
New drone footage posted to YouTube shows the machine, with a roof but still in the open, with multiple car parts piled up adjacent to the machine.
Other action is going on in the footage, with a semi pulling up and workers walking around the area.
The video also shows many different parts of the factory, including the Tesla seat factory and the new "roadrunner" battery cell manufacturing area.
Benzinga's Take: If the machine is already producing parts, this is great news.
This new single piece has many benefits for Tesla and the Model Y. It is cheaper and faster to produce, and is stronger than multiple pieces put together. Tesla is constantly innovating and changing prices, and a Model Y price drop a few months ago may be a direct result of the progress with this machine.
View Comments and Join the Discussion!
Posted-In: electric vehicles EVs Model YTech Best of Benzinga