Future Tesla Update Will Bring Side Video Feed When Using Turn Signal: Musk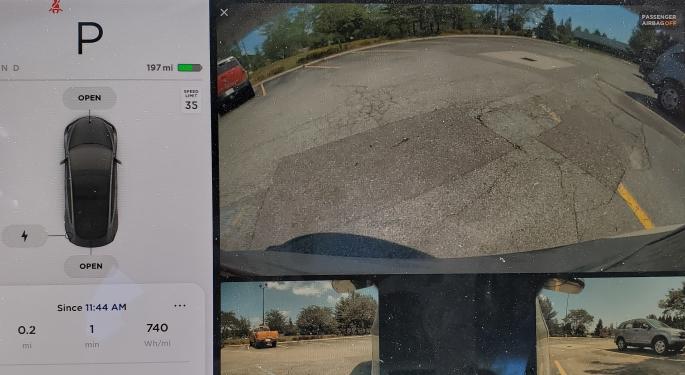 Elon Musk regularly has exchanges with fans and customers on Twitter. The Tesla (NASDAQ: TSLA) CEO said on Twitter that Tesla could accommodate a new feature request that gives owners a large video view of the side camera when using their turn signals.
Like most vehicles, Teslas have a rearview camera, although in these cars the view is much bigger and higher quality than other manufacturers.
Since the car has cameras on all sides, customers have often requested to be able to view the side repeater cameras, located on the front fenders, while driving and parking.
In a recent software update, Tesla gave owners the ability to see the view out of those camers, which allowed drivers to see their blindspot on the car's large center screen.
Unfortunately, the view from these cameras was smaller than the rearview and more similar to what you'd see from a traditional manufacturer. Now, Musk says, when using your turn signal, the car would automatically give you a larger view of the camera pointing in the direction you intend to go.
This would allow users another way to easily monitor their blindspot before changing lanes, or even help in parallel parking situations.
Benzinga's Take: This is one of the main reasons Tesla's cars are so popular — they're always getting better via free software updates. It also helps that the CEO is responsive on Twitter, regularly adding requested features.
While this update will be nice, it may be rendered useless soon, as Tesla hopes to have full level 5 autonomy complete by the end of 2020.
View Comments and Join the Discussion!
Posted-In: electric vehicles Elon Musk EVsTech Best of Benzinga