Infographic: Apple's Journey To $1 Trillion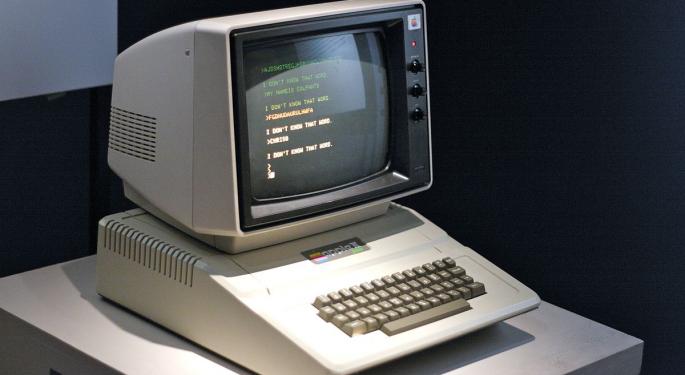 Before 1976, consumers attributed the word "apple" to produce, and before the iPhone launch in 2007, consumers would have never imagined Apple Inc. (NASDAQ: AAPL)'s success to be what it is today.
What Happened
On Thursday, Apple became the first public American company to reach a market capitalization of $1 trillion after shares rose nearly 6 percent following strong earnings results.
The tech company has evolved drastically since its launch in a garage with three co-founders.
Why It's Important
While Apple is lauded for many achievements, designing and producing tech products is the company's modus operandi. After its start in 1976, the company released the Apple 1 computer, followed by a number of Macintosh desktop and iBook computers as Apple transitioned into the new millennium.
By 2000, the company was worth $5 billion and developing the original iPod, as well as Intel Corporation (NASDAQ: INTC)-based Macbooks.
Despite yearly releases and stylish updates of iPods and Macbooks, Apple's drastic spike in popularity did not occur until early 2007, when CEO and co-founder Steve Jobs announced the first iPhone.
From 2008 on, Apple took off. In 2010, the company released the first-generation iPad, which sold 300,000 units the first day alone, according to an Apple press release. While the release of the Apple Watch in 2015 remains the most recent new product line launch, the company has since developed facial recognition technology, touch bar displays and wireless earpods for its products.
This 40-year evolution culminated in Thursday's $1-trillion market capitalization. A graph by Statista demonstrates the journey by the numbers.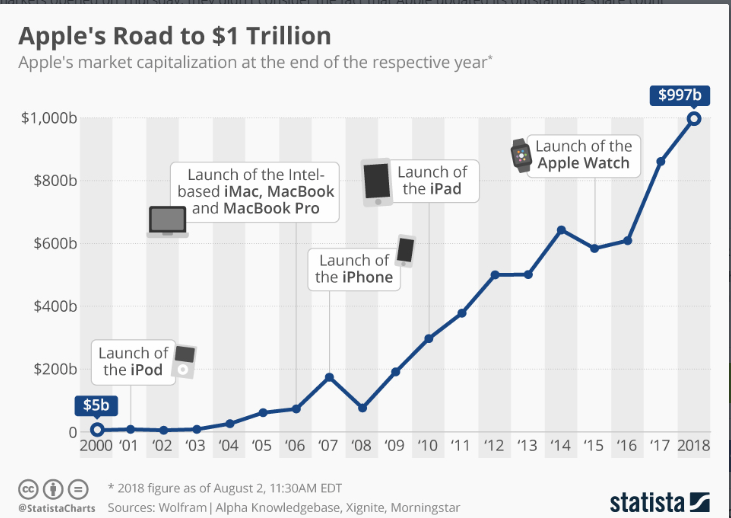 Infographic courtesy of Statista.
What's Next
The company has announced the launch of new products this fall, along with the official release of iOS 12.
Related Links
Here's What It Costs Apple To Make Your $1,000 iPhone X
5 iPhone Suppliers That Could Benefit From Apple's Solid Q3
Photo by Marcin Wichary/Wikimedia.
Posted-In: StatistaTech Media Best of Benzinga
View Comments and Join the Discussion!