CBS, CW Combine Forces To Help Bolster Network's Superhero Series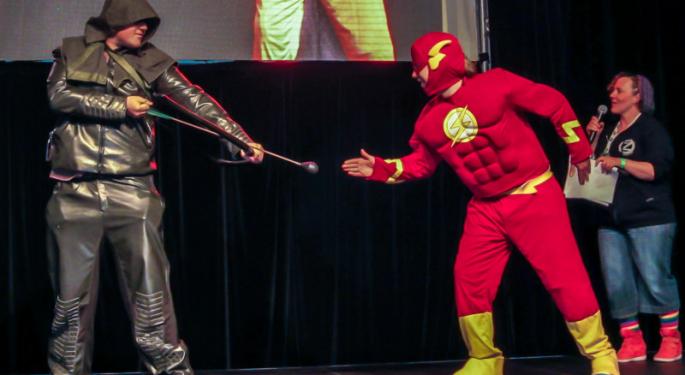 Time Warner Inc (NYSE: TWX)'s DC-connected TV universe is about to get bigger.
Supergirl And The Flash Unite
CBS Corporation (NYSE: CBS) revealed Wednesday this March, fans will see a crossover between its network's "Supergirl" series and The CW's "The Flash." The move marks the first time any of The CW's super-heroes have crossed over to a non-home network series. More importantly, for CBS it unites the worlds all four of its super-hero series (potentially), setting the stage for larger events down the road.
Related Link: Investing In The Movies
While details are slim, what has been revealed is "Flash" star Grant Gustin will be coming to National City to team with "Supergirl" star Melissa Benoist on Monday, March 28. Fans have been clamoring for some sort of crossover since "Supergirl" first took off, and now that the show has found its footing, the network has found a way to reward its viewers.
The Differences Between Big Screen, Little Screen Success
In addition to "The Flash," The CW also airs "Arrow" and the just launched "DC's Legends of Tomorrow," which is off to a strong start. The common link between all four series is Hollywood uber-producer Greg Berlanti, who helped bring all the shows from page to screen. The crossover will not only help strengthen the DC brand on TV but likely help boost the ratings for first year series "Supergirl."
While the Time Warner-owned DC has not had the same success as Walt Disney Co (NYSE: DIS)-owned rival Marvel on the big screen, the brand has seen greater success on the small one. These four shows, along Fox's "Gotham," have all been well received, but the idea of the characters leaving their respective networks was always a long shot. In this case, it helps that CBS is the parent company of The CW.
Image Credit: By Jupiter Firelyte (Oz Comic-Con 2014) [CC BY 2.0], via Wikimedia Commons
View Comments and Join the Discussion!
Posted-In: CW DC Grant Gustin Greg Berlanti MarvelTech Trading Ideas General