Weekly Tech Highlights: Apple's Big Event, Facebook Hits 1B Users In 24 Hours And More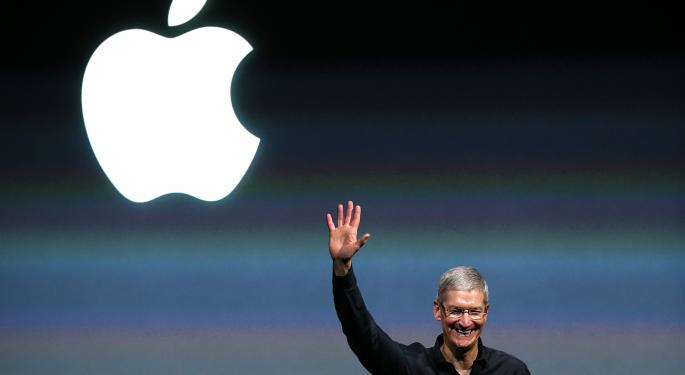 August came to a close with a highly anticipated event announcement and a social media milestone.
Apple Confirmed Its September 9 Event, Teased Siri Announcement
Apple Inc. (NASDAQ: AAPL) confirmed its event this week when it began to send out invitations for the September 9 extravaganza. As always, the invitation was light on words, but it did offer up one notable tagline:
"Hey Siri, give us a hint."
"That was just a play in with Siri," FBR Capital Markets analyst Daniel Ives told Benzinga.
Apple expert Sean Udall wondered why Apple would mention Siri without any plans to talk about it at the conference.
"Why would they promote Siri [and] call it out especially?" Udall questioned.
Related Link: Should HP Invest In More M&As?
Facebook's Newest Milestone Is The Real Deal
For the first time in history, one billion people used Facebook Inc (NASDAQ: FB) in 24 hours.
Contrary to what some analysts assumed, that milestone was not reached by combining the total daily users from Facebook, Instagram and WhatsApp. That number referred entirely to Facebook's total users for the day.
Nonetheless, Patrick Moorhead (president and principal analyst at Moor Insights & Strategy) told Benzinga that he thinks Facebook's milestone is only sustainable "with the additions of WhatsApp and Instagram."
"WhatsApp caters to emerging regions and Instagram caters to kids and millennials, the populations to either not use Facebook.com or are looking for the next, new brand and experience," said Moorhead.
Related Link: Is Tesla's Airbnb Partnership 'Very Positive' Or A 'Waste Of Time'?
Avago Technologies Attempted To Ride The Apple Supplier Wave
Global Equities Research analyst Trip Chowdhry thinks investors may have "overcorrected" Avago Technologies Ltd (NASDAQ: AVGO).
"It seems like the pessimism that investors may have felt on Apple and its suppliers is not that serious at all," Chowdhry told Benzinga. "If you look at Avago, they just missed [sales], it's not that serious. The impact from China is less severe than many people have been assuming. I think. Based on the numbers Avago put in, it could recover the decline in value."
Is The Media Wrong About Netflix's International Exposure?
Albert Fried & Company Director of Research Rich Tullo thinks the media is wrong about Netflix, Inc. (NASDAQ: NFLX). One of his primary concerns is growth. He said the company has already surpassed roughly 60 percent of global broadband houses, which means Netflix may not have as much room to grow as investors expect.
Tullo is also concerned about the price discrepancies for Netflix in various regions.
"Netflix in Mexico costs the subscriber about $30 in local terms, which I think is a lot for a worker making only $11,000 a year," said Tullo.
Gene Munster Sets The Record Straight On VR
Piper Jaffray analyst Gene Munster recently detailed the reasons why some investors are wrong about virtual reality.
Munster said it is a myth that VR will be the next 3D TV, that it will make people sick or that there won't be enough content. He also dispelled the myth that VR is not social and that it is easy to convert existing games to the format.
Munster is also one of the first analysts to release sales predictions for Oculus Rift, the long-awaited VR headset from Facebook. He expects the company to sell three million units in 2016 at a price of $399.
Disclosure: At the time of this writing, Louis Bedigian had no position in the equities mentioned in this report.
View Comments and Join the Discussion!
Posted-In: Facebook Gene Munster Sean Udall Trip ChowdhryTech Best of Benzinga