Weekly Tech Highlights: Apple's Battery Division, Why Apple Needs BlackBerry And More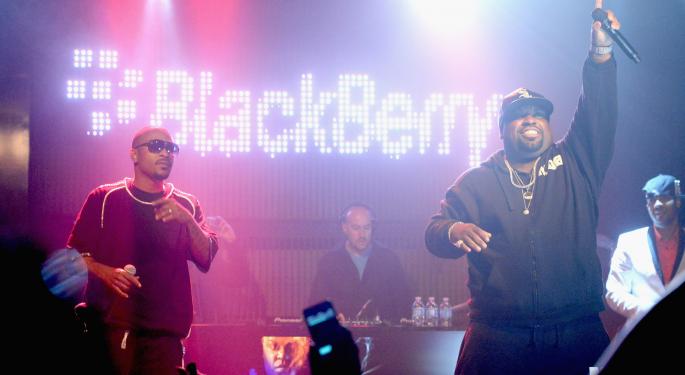 The second week of May was filled with M&A rumors, unlikely partnerships and an unexpected acquisition.
Apple Rumored To Be Interested In Buying BlackBerry
Apple Inc. (NASDAQ: AAPL), the world's largest corporation, was rumored to be looking at BlackBerry Ltd (NASDAQ: BBRY) as a possible acquisition target. Needless to say, the rumor received a wide variety of reactions from Wall Street.
"I think the play with BlackBerry is a partnership play, not at all an acquisition," Global Equities Research analyst Trip Chowdhry told Benzinga. "Apple will welcome BlackBerry as an App Store partner. They can publish their security software on App Store and people can download it -- no different from what [other companies] have done."
Cody Willard, chairman of Scutify (a financial social network) and Futr (a futuristic messaging app), thinks Apple could buy BlackBerry to speed up its effort to get into car dashboards.
Sean Udall, CIO of Quantum Trading Strategies and author of The TechStrat Report, thinks Apple would only acquire BlackBerry if the world's largest governments asked Apple to step up and make an offer.
Related Link: Yelp M&A Chatter: Good For Buyer, Bad For Small Businesses?
Apple Could Be Developing A Battery Division
Apple's battery division re-entered the spotlight this week after the company settled its lawsuit with A123 Systems.
A123 Systems had claimed that Apple had poached employees to develop a "large-scale battery division to compete in the very same field as A123."
"If they have a technology that will be better than traditional battery technology and they apply the Apple brand to it, they obviously will have a big chance for industry success," tech industry expert and analyst Jeff Kagan told Benzinga.
Verizon Acquired AOL For $4.4 Billion
Verizon Communications Inc. (NYSE: VZ) surprised investors this week when it announced that it would pay $4.4 billion to acquire AOL, Inc. (NYSE: AOL). The unexpected announcement came eight months after one activist investor pushed Yahoo! Inc. (NASDAQ: YHOO) to acquire AOL.
"The most interesting part of it is how this fits into Verizon's lobbying efforts on net neutrality," Willard told Benzinga. "Essentially, AOL was on the opposite side of the coin than Verizon and other broadband service providers."
Icahn Promised A New Apple Report But Came Up Short
Famed activist investor Carl Icahn teased investors on April 28 when he told his Twitter Inc (NYSE: TWTR) followers that an "in-depth" Apple report would be released in two weeks.
Icahn, who previously valued Apple at $216 a share, has yet to release that report.
Facebook Launched A New Feature For Publishers - Should They Be Worried?
Facebook Inc (NASDAQ: FB) embraced publishers this week when it unveiled a brand-new feature called Instant Articles. The goal is to bring more original content to Facebook, all the while providing publishers with more than a billion potential readers.
"Facebook, other than games, owns the top four apps," Mitchell Reichgut, CEO of Jun Group (an ad platform that gets consumers to engage with branded content), told Benzinga. "They are the core of the Internet right now. If you are a major publisher, that has to concern you."
Reichgut thinks publishers are coming to Facebook because they need to, not because they're excited to be on the platform.
Disclosure: At the time of this writing, Louis Bedigian had no position in the equities mentioned in this report.
Posted-In: A123 Systems AOL Apple Blackberry Carl Icahn Google TeslaTech Best of Benzinga
View Comments and Join the Discussion!