Whatcha Gonna Do When Hulkamania & Cenation Run Wild On Silicon Valley?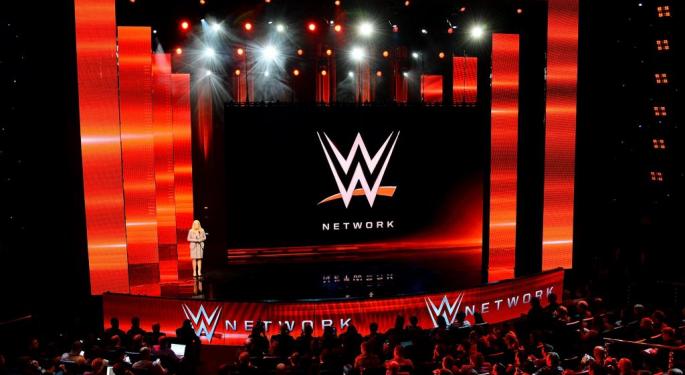 A couple of World Wrestling Entertainment, Inc. (NYSE: WWE) icons recently visited a few iconic names of Silicon Valley.
Hulk Hogan and John Cena toured the campuses of Facebook Inc (NASDAQ: FB), Twitter Inc (NYSE: TWTR) and Google Inc (NASDAQ: GOOGL) (NASDAQ: GOOG). It was part of WWE's Wrestlemania Tech Tour. The 31st edition of Wrestlemania takes place March 29 at Levi's Stadium in Santa Clara, California.
Cena said they spoke with employees to try and learn how to best integrate WWE with the digital and social world.
According to the "sports-entertainment" juggernaut, WWE has 450 million social media followers, the WWE app has 16 million downloads and WWE Network recently crossed the 1 million subscriber mark.
"I certainly dig it, because you don't feel like you're in an office," said Cena, whose work rarely brings him to the office. Among other activities, Cena and Hogan participated in Twitter Q&A's.
Related Link: Trailblazers: Vince McMahon Takes His Empire, And An Industry, Over The Top
Had a BLAST hosting Q&A with @StephMcMahon, @JohnCena and @HulkHogan at @google HQ today. See you at Levi's! #31to31 pic.twitter.com/ZdLNJQIgiy

— Brad Foreman (@bforeman21) February 27, 2015
Regarding hashtags and social media, WWE Chief Brand Officer (and on-screen character) Stephanie McMahon told Mashable that "it's our secret sauce... Our fans are part of our show — whether they're in the arena chanting and showing their signs or they're on social media, which gives them the opportunity to do that from their sofas. We engage with our audience. It's what we do. Without our fans, we wouldn't have a show."
.@Triqsz Very scary, I didn't know if he was going to be nice to me or not HH #AskHulk #31To31

— Hulk Hogan (@HulkHogan) February 26, 2015
Related Link: WWE Just Shuffled Its Board Of Directors...And 'Triple H' Is Involved">
Check out highlights in the video below:
Posted-In: Hulk Hogan John Cena Silicon Valley WrestleManiaTech Best of Benzinga
View Comments and Join the Discussion!