Apple Crossed $700B - Will Microsoft Soon Follow?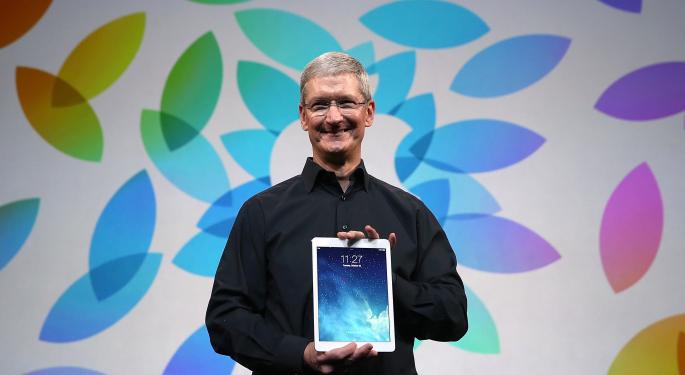 Apple Inc. (NASDAQ: AAPL) briefly rallied to a $700 billion market cap this week, highlighting the Mac-maker's success as the largest enterprise in the world.
Now that the dust has settled, investors only have one question: Which company will hit $700 billion next? "I would put my money on Microsoft to cross over that barrier," Thomas H. Yorke, managing director of Oceanic Capital Management, told Benzinga.
"They're in the middle of a metamorphosis, if you will. They're grabbing the next generation and getting into some things they haven't been active in prior."
Yorke is curious to see how Microsoft Corporation's (NASDAQ: MSFT) long-term strategy pans out for Surface. "Surface has [received] a big push," said Yorke, who serves as a portfolio manager on Covestor. "I thought it was interesting to see the Surface push on a lot of the NFL programs. They're bringing Surfaces out and people are getting to see them on what I think is clearly America's sport. Will that help them? My guess is that's a fairly effective marketing tool for Surface."
Related Link: Report: Yahoo, Microsoft Pitching Apple To Be Default Search Engine In Safari Browser
Don't Count On Google
Brett Golden, president and co-founder of The Chart Lab, doesn't think that Google Inc (NASDAQ: GOOG) -- once expected to be the first trillion-dollar company -- will match Apple's market cap.
"I don't think it's going to be Google," Golden told Benzinga. "I think Google has a very good business. It's somewhat of a duopoly. You see they're trying to innovate in a lot of other ways. I think they're hitting a plateau in their business."
Golden thinks that if any firm can get to $700 billion, it might be Exxon Mobil Corporation (NYSE: XOM). "What company is gonna [do it]?" Golden questioned.
"Why would Google's business triple [to reach $1 trillion]? What's the catalyst? It certainly is not going to be advertising. You're dealing with a very depressed valuation in terms of Apple because no one believed -- everybody thought their products were becoming commoditized and their margins were moving lower. I don't see any catalyst that's going to make Google's stock price triple."
Microsoft may also have a chance at hitting $700 billion. "I tend to think that Microsoft is a much more diverse company than Google," Golden added. "I think if they can really expand their enterprise business they might have a shot. But the stock has had such stellar performance as it is, I don't know."
Disclosure: At the time of this writing, Louis Bedigian had no position in the equities mentioned in this report.
View Comments and Join the Discussion!
Posted-In: Apple Brett Golden comments Covestor Google Microsoft Oceanic Capital ManagementTech Best of Benzinga