WTF Is #GamerGate?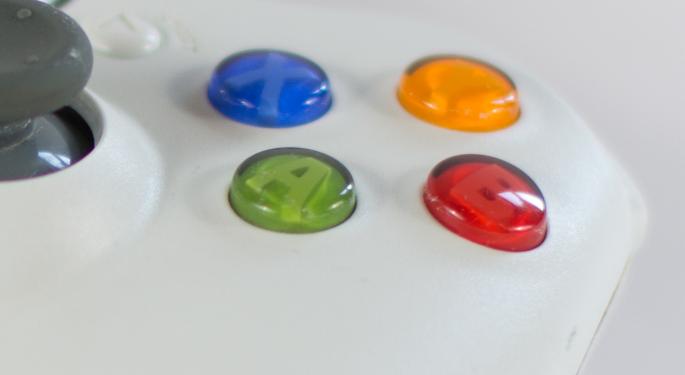 Many are aware of the hashtag and its inescapable controversy, but what exactly is GamerGate?
Supporters say it is a movement to unearth collusion and bring back ethics in video game journalism. Opponents believe those claims are merely an excuse to cover up the reported harassment of women.
This simple definition is often used to describe GamerGate, though the controversy is far more complex than it may appear.
"[GamerGate] is so huge that to boil it down to, 'It's about one thing' -- the minute you do that, it's not accurate," games columnist and Metaleater writer Liana Kerzner told Benzinga. GamerGate's massive scope is only part of the problem, though.
"The thing about a hashtag or Internet movement is that anybody can make a post or tweet and define themselves to be a part of GamerGate," Newsday columnist and Reason contributing editor Cathy Young told Benzinga.
"It's really difficult to kind of define who is and isn't part of this."
Related Link: Will Nasty Reviews Hurt Activision's 'Destiny'?
Threats Of Violence
Young referred to GamerGate's stated goal (better ethics in gaming media) as "something of a fuzzy concept."
Things got even fuzzier after a few women -- including Anita Sarkeesian -- received death threats.
Former Hi-Rez Studios producer and Marketfy product manager Michal Nodel is particularly frustrated by the ongoing violence toward women.
"Violence against women in video games seems to be the most prevalent type of virtual-world abuse against a particular group that we're experiencing in our society today," Nodel told Benzinga. "People who are speaking out against it, like Anita Sarkeesian, are reacting the way any leaders of any group that feels targeted would -- and should.
"The response to her speaking out from the gamer community... is startling, especially when threats are shifting from virtual to real world potential violence."
Asif Khan, CFO of Virtue LLC and CEO of Shacknews.com, thinks gamers had a good point when they questioned ethics in the media. He said the problem is that they let this "whole thing of misogyny and hate and death threats" come into play.
"That kind of takes the argument and tarnishes it," Khan told Benzinga.
"I don't think that's a way to mobilize. It's not a way to create change. It's tough. I understand the origins of GamerGate. At the same time, it's misinformed and whoever's in charge of it, however it's been hijacked, they need to chill out."
Related Link: Former GETCO Technologist Shifts To Video Games, Develops 'BandFuse: Rock Legends'
Sexism
Nodel said the line between censorship and decency has been crossed, "and I think we are more sensitive to behaviors in video games than we are [with] any other medium because of its interactive nature."
Kerzner disagrees.
She thinks video games are being blamed for problems that extend to other forms of media.
"It's the same old argument that gaming, which takes its cues from greater culture and greater media -- things like film, television and music, which are older art forms," she said.
"There's this backward claim that gaming is responsible for sexism instead of reflecting sexism in the culture. As somebody who [self-identifies] as a feminist, that really bothers me. It's just wrong."
Heroes In The Shadows?
The media has primarily focused on two elements (ethics and harassment), but Young said most GamerGate supporters don't condone any form of harassment. "They've made an effort in a few cases to [track] down someone that has made threats or doxed someone," she said.
After working with gamers for 10 years, Kerzner came to one conclusion: They are good people. "I think people mean very well when they try to defend women," she explained, referring to those who have attacked gamers over GamerGate.
"But in the long term it is much better to give women tools to speak for and defend ourselves than shoving us to the side while talking about how bad we have it. Harassment on the Internet is not a gamer problem. Sexism is not a gamer problem. Violence not a gamer problem. Gamers get a bad wrap because we're loud and we're very competitive and we tend to want to solve problems publicly and very bluntly."
Suspected (But Rarely Confirmed) Breaches Of Ethics
When consumers disagree with a product review, they often question the source. This is not exclusive to video games, but it is a hot topic for this particular industry.
In 2012, GameSpot admitted that it fired Jeff Gerstmann after he refused to give a game a higher score.
Kerzner believes this event, which dates back to 2007, is another reason GamerGate has gotten so much traction.
"I think, to an extent, we're living in very, very cynical times," Kerzner said.
"We know trust in the press is at an all-time low, which is extremely unfortunate. With games reviews, it comes down to the Metacritic system now." That system refers to the belief that every video game review should fit within the score average displayed on Metacritic.com/game.
"Then people -- who perhaps don't have the confidence in themselves as a reviewer that they should -- check this service to see whether their score is right," Kerzner continued. "I've been absolutely floored by people saying, 'I write up my review and then I check Metacritic to see if I'm in the right range and then I post it.' I don't know what to say when someone says that to me. That's like checking a cheat sheet before putting your answers on a test."
Website Troubles
It is not yet known if GamerGate will have an impact on the overall video game industry, but a few websites have already gotten into trouble.
The first was Gamasutra, which published a piece that criticized people who identify themselves as gamers. Readers complained, prompting Intel Corporation to pull its ads from the site. Intel was then accused of being anti-feminist.
The company quickly apologized, noting that its actions "inadvertently created a perception that we are somehow taking sides in an increasingly bitter debate in the gaming community."
Despite the apology, Intel did not reinstate its ad campaign on Gamasutra. "From the operating a website standpoint, it's really tough because now advertisers are afraid to give us any money," said Khan.
Late last month, Gawker Media Group reportedly lost three key advertisers -- BMW, Mercedes and Adobe Systems Incorporated -- after the site allegedly bullied gamers.
Disclosure: At the time of this writing, Louis Bedigian had no position in the equities mentioned in this report.
Image credit: Eric Holsinger, Flickr.
Posted-In: Anita Sarkeesian Asif Khan Cathy Young GamerGate Liana Kerzner Marketfy MetacriticTech Best of Benzinga
View Comments and Join the Discussion!