Will Micron Technology, Inc.'s Earnings Prove The Company Is Undervalued?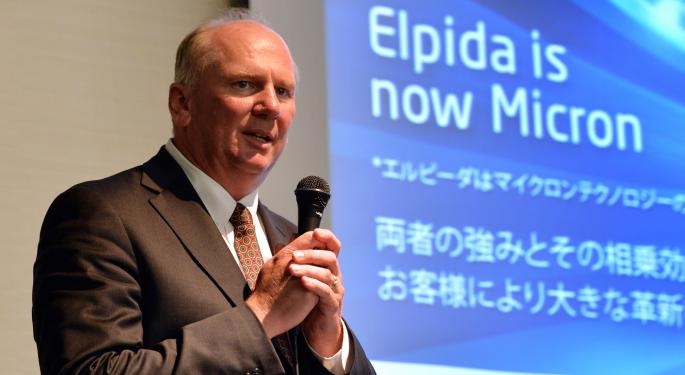 Micron Technology, Inc. (NASDAQ: MU) will report after the market closes on Thursday, September 25. So, should investors be excited or worried?
"The thing that I think everyone is looking for is how they will guide the DRAM pricing going forward," Pacific Crest analyst Monika Garg told Benzinga. She noted Micron makes the majority of its money selling DRAM.
Samsung (OTC: SSNLF), Micron's chief competitor, has increased its DRAM supply guidance twice in 2014.
The South Korean tech giant had initially expected its DRAM supply to increase 20 percent year over year, though Samsung later revised expectations to account for 30-percent growth. The company now anticipates 40-percent growth.
This supply increase could be a problem for Micron.
"Samsung has been trying to increase capacity for next year," Summit Research analyst Srini Sundararajan told Benzinga. "All they're trying to do is making sure that they are self-sufficient."
Related Link: Why Would Apple Inc. Close Beats Music? Experts Weigh In
Buying Into Apple's World
Sean Udall, CIO of Quantum Trading Strategies and author of The TechStrat Report, praised Micron for its 2013 acquisition of Elpida.
"[It] may go down in history as one of the best M&A moves of all time," Udall told Benzinga. "It was shockingly amazing [and was] probably at least as good as Google buying YouTube."
To prove his case, Udall turned to Micron's cash flows from operations.
He pointed out that the company reported operating cash flows of $1.46 billion in the fiscal 2014 third quarter, $1.39 billion in the second quarter and $1.51 billion in the first quarter. The latter period (which ended November 28, 2013) was Micron's first full quarter after the Elpida acquisition.
Micron's operating cash flows were more than 50 percent lower in Q4 2013, coming in at $717 million. This period included roughly a month of Elpida ownership and provided a noticeable increase over Q3 2013, when operating cash flow reached $624 million. Operating cash flows were considerably lower during the first six months of the year, reaching just $470 million.
Udall said that the increase in operating cash flows has already proven Elpida's worth since Micron essentially paid for the company in the last two quarters alone.
"I think Micron, at a minimum, is still worth $35 to $36," he added. "That's minimum. I could probably make the case that it's worth something in the low to mid-40s."
Most notably, Elpida was a DRAM supplier for Apple Inc. The $2 billion acquisition was completed in July 2013.
iPhone 6 Troubles?
Apple is generally thought to be good for Micron, but is Micron good for Apple?
"The Apple iPhone 6 comes only with 1GB of DRAM, and that's possibly because they could not procure enough [from Micron] for 2GB capacity," Sundararajan noted.
Aside from Apple, Sundararajan said Chinese white box vendors are the biggest buyers of Micron's DRAM. Samsung's supply increase could theoretically encroach on this market.
Disclosure: At the time of this writing, Louis Bedigian had no position in the equities mentioned in this report.
Posted-In: Apple iPhone 6 Micron Monika Garg Pacific Crest Sean Udall Srini SundararajanTech Best of Benzinga
View Comments and Join the Discussion!