5 3D Printers For Your Home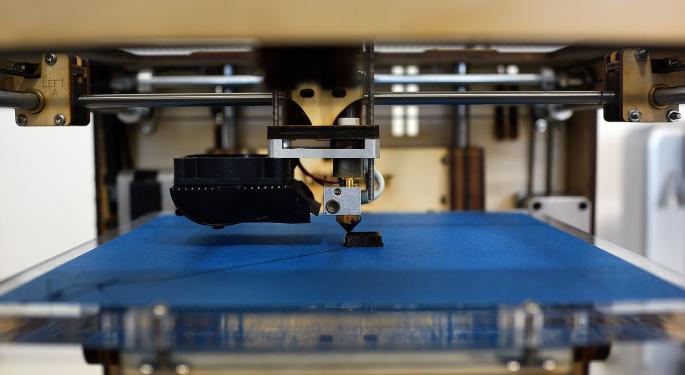 3D printers are getting cheaper. Is now the time to buy?
"Our printers are not only affordable, but they're easy to use," Sam Cervantes, founder and CEO of Solidoodle, told Benzinga. "I think we've developed the easiest-to-use printer out there. We've developed something called SoliTouch Technology, [which] is really cool because it's really the first one-button 3D printing."
Solidoodle has developed a new printer, the Solidoodle Press, that is currently available for pre-order at $449, $150 below the MSRP.
It is not the only low-cost 3D printer available, however. In fact, the da Vinci 1.0 -- the number-one 3D printer on Amazon -- retails for $499.
"Lowering the price is just part of the idea," Phair Tsai, business development manager at XYZprinting, told Benzinga. Her company is behind the da Vinci 1.0. "We're trying to make 3D printing as easy as possible."
We are honored to be named in TopTenReviews "2014 Best 3D Printer" list. See how we stack up to the other nominees: http://t.co/U5TzljxNU8

— XYZprinting Inc. (@XYZprinting) September 5, 2014
M3D recently launched a successful Kickstarter campaign to produce The Micro, a consumer-friendly 3D printer that early adopters can pre-order for $349. Some Kickstarter backers were lucky enough to get the printer for as low as $199.
"We achieved the price point by integrating and optimizing all the different parts that go into a product," David Jones, co-founder of M3D, told Benzinga. "It was basically smart design. We're not just making an affordable 3D printer -- we're also making an affordable 3D printer in the U.S."
Related Link: 5 Of The Coolest 3D Printing Prototypes In 2014
1. Peachy Printer: $100
Is it possible to acquire a 3D printer for just $100? The answer is yes -- but only if consumers are willing to build it themselves. Thus far, it seems that 4,000 people are ready to roll up their sleeves and get to work.
They helped support the Kickstarter campaign for the Peachy Printer, which raised more than $651,000. Peachy Printer plans to open an online store and begin selling the device once the Kickstarter orders have been fulfilled.
2. OneUp: $199
When Quintessential Universal Building Devices (also known as QU-BD) launched a Kickstarter campaign to build a low-cost printer, the company asked for $9,000. Intrigued by the pitch and $199 price point, consumers quickly helped the campaign raise more than $400,000. The resulting printer is the OneUp, a cheap 3D printer that requires some tinkering. Another version, the TwoUp, is also available for $279.
Related Link: 3 Ways 3D Printing Could Revolutionize Disney's Parks, Toys And Movies
3. The Micro: $349
The Micro is the most successful Kickstarter campaign ever launched for a 3D printer. Nearly 12,000 people backed the device and pledged more than $3.4 million.
"We do think The Micro is really the first 3D consumer printer," Michael Armani, co-founder of M3D, told Benzinga. "There really hasn't been one at this price point."
4. da Vinci 1.0: $499
Selected as the "Editors' Choice Winner" at CES 2014 in the "Most Affordable 3D Printer" category, the da Vinci 1.0 is one of the most popular 3D printers available.
"Our [goal] is to make an accessible and also an affordable 3D printer for everybody," Tsai said. "For those who are not as tech-savvy, for children, for families."
5. Solidoodle Press: $449 - $599
The Solidoodle Press will eventually become the most expensive printer in this list. Cervantes took a few minutes to explain why.
"We're selling a consumer product," he said. "Our products are sold at Best Buy and Staples. We're not selling a kit that you have to assemble yourself. A lot of companies sell kits, and that's cool if you like to build a printer, just like a lot of people like to build their own computers. It's really awesome. But we're selling a printer for people that just want to print."
Long term, Cervantes hopes to put a 3D printer in every home in the world.
"We were the first with a 3D printer, fully-assembled, under $1,000," he added. "We were the first with a fully-assembled 3D printer under $500. And I think the Solidoodle Press is the first plug-and-play, truly consumer 3D printer."
Disclosure: At the time of this writing, Louis Bedigian had no position in the equities mentioned in this report.
Posted-In: da Vinci 1.0 M3D OneUp Peachy Printer QU-BD Solidoodle Solidoodle PressTech Best of Benzinga
View Comments and Join the Discussion!