Top 6 iPhone 6 Leaks And Concept Art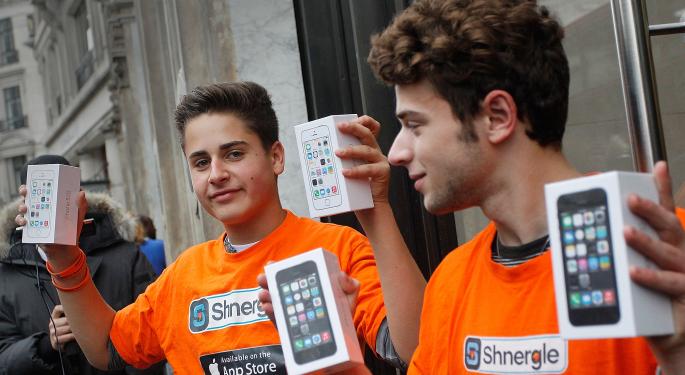 Apple (NASDAQ: AAPL) is expected to unveil the long-awaited iPhone 6 on Tuesday, September 9, 2014.
The highly anticipated event was confirmed after Apple began to send official invites to select members of the press.
Earlier this month a comedian (known as Doldo411) parodied the iPhone frenzy with this first-look video:
There are, however, a plethora of images out there that could be the real deal. Click through the slideshow to see the best of the best.
Disclosure: At the time of this writing, Louis Bedigian had no position in the equities mentioned in this slideshow.
iPhone 6 Guide

If you can't snap a picture of the iPhone itself, you might as well get a shot of the guide that comes with the new device, right?

That's the logic behind this interesting leak, which was quickly disputed by Apple blogs.

Image Credit: Nowhereelse.fr via Mashable

iPhone 6 And Its Unusual Lines

iPhone 6 Advertisement

What could be better than an iPhone 6 ad leak?

Not much. There's just one problem: this image is not a leak -- it was created by two designers: Tomas Moyano & Nicolàs Aichino.

Image Credit: Yanko Design via GottaBeMobile

Not Quite The iPhone 6

Finally… The iPhone 6?

TMZ uncovered what could be the best leak of all.

These images aren't perfect, but it's not hard to imagine that these could be the real deal. They certainly fit in with the previous crop of iPhones (unlike some of the other leaks and concept images, which didn't feel like Apple products at all).

Image Credit: TMZ

Could These Be The Real Deal?

Take a close look at these devices. If MacRumors' image is accurate, the 4.7-inch iPhone will actually feature the narrowest bezel. Meanwhile, it appears that the 4.0-inch and 5.5-inch iterations have a similar bezel.

Image Credit: MacRumors

More Stories You Can't Miss
View Comments and Join the Discussion!
Posted-In: Apple GottaBeMobile iPhone iPhone 6 MacRumors Mashable Nicolàs AichinoTech Best of Benzinga