Can Amazon Rise To Google's Level?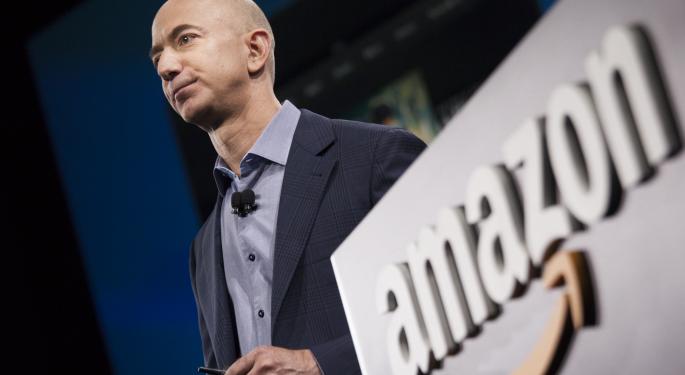 Amazon (NASDAQ: AMZN) is reportedly planning to take on Google's (NASDAQ: GOOG) advertising business.
This rumor begs one key question: Is this a battle Amazon can realistically win?
"I wouldn't bet against Amazon on anything," Dan Sahar, co-founder and VP of Product Marketing at Qwilt, told Benzinga. "The ad business is not trivial. Google has a great product there that integrates fairly well with search. They've built it over more than a decade."
Related Link: 5 Things You Need To Know About Twitch's Sale To Amazon
FBN Securities analyst Shebly Seyrafi expects the online advertising to market to grow 16 percent in 2014.
"That's always been a question of mine: to what extent [is Amazon] going to expand their efforts in advertising?" Seyrafi questioned. "They do have a small position in advertising already, but it's very, very small. If they expand that, it'll pit, in my opinion, Amazon more directly in competition with Google."
Finding The Right Platform
In order to be successful, Sahar thinks that Amazon must find the right platform for ads.
"I think their platform is probably the shopping platform," he said. "The shopping platform might be the better way to do it, even though Twitch can be another avenue. I think targeting-wise, the regular Amazon website is probably a better place for that."
That said, Sahar noted that Twitch's demographics (somewhere in the 15- to 25-year-old range) are "actually good."
"[But] my guess is that Amazon is gonna start with their ad platform on the native Amazon website," he added.
The Competition Is On
Slowly but surely, it seems that Amazon and Google are destined to become fierce competitors.
"We're already seeing Amazon and Google compete more and more directly -- for example, in the cloud infrastructure as a service side," said Seyrafi. "Google Compute Engine is competing against Amazon Web Services, and we've already seen some impressive price moves by both of those companies in March of this year."
Seyrafi said that there is a battle between these "big behemoths," adding that Amazon's strategy has "always been to pursue more and more avenues for growth."
"The Twitch acquisition is another example of that," he said.
Disclosure: At the time of this writing, Louis Bedigian had no position in the equities mentioned in this report.
Posted-In: Amazon comments Dan Sahar FBN Securities Google Qwilt Shebly SeyrafiTech Best of Benzinga
View Comments and Join the Discussion!