The 3D Printer Craze Is Overblown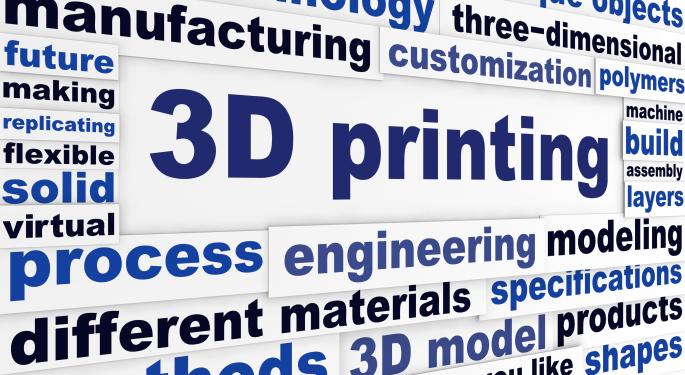 Everybody loves to dream about the possibilities of 3D printing, but one report says that any type of large-scale consumer use is likely more than five years away.
In the report, "Consumer 3D Printing & Scanning: Service Models, Devices & Opportunities 2014-2018," Juniper Research says that consumer 3D printers will reach annual sales of one million units by 2018—up from 44,000 currently.
The report notes that it will take at least five years for the technology to find enough wide-scale adoption to make it what some would call a disruptive technology.
Related: Polish 3D Printer Company Zortrax Wants to Go Public
Currently, 3D printing faces headwinds. First, it has failed to solve a real consumer problem. Why print a piece of chocolate when you can buy one in less time for less money? Why print a toy when you could easily buy it on Amazon?
Consumer Market Challenges
The evolution of 3D printing in the consumer space hasn't reached a point where it solves a problem that can't be solved elsewhere, notes the report.
"Educating and motivating the public on the idea of using 3D printing to create everyday objects is critical for the long-term success of this segment. Killer applications and content will be the key drivers – something unique and personalized, which is not available in stores already."
But even if the consumer market reaches one million units in four years, does that make for an investible technology?
In its Q4 earnings statement, Apple reported sales of 33.8 million iPhones in just three months. Monday, Netflix reported adding 2.25 million subscribers in its most recent quarter bringing the total to 35.7 million in the United States alone.
While there's no comparing a phone and video plan to a 3D printer, one million of anything in the consumer market is miniscule and probably not an investible industry. Juniper's report notes that consumer 3D printing will continue to have challenges in the medium term.
Forget Consumers For Now
Industrial and commercial printing, however, is a different case. Companies creating new product prototypes at a fraction of the cost of traditional methods saves massive amounts of R&D dollars. 3D printing industrial parts has proven a more cost effective alternative in some cases and biotech companies believe they will print viable, transplantable organs in with a decade or two.
3D Systems (NYSE: DDD), the story stock for the 3D printing industry, has seen losses of 48 percent year to date, but the stock is still up 51 percent over the past year. Voxeljet (NYSE: VJET) is down more than 66 percent year to date on concerns that the company is built on patent technology from MIT that expires in three years.
Most analysts and insiders agree that the 3D printing industry will grow into a mainstream market but for now, it has near term pressures that will likely limit its growth.
"The 3-D-printing industry isn't revolutionary, it's evolutionary," Andrew Left, a notable short seller and chief of Citron Research told CNBC. "In a hot market like this, you get a good story. It just captures peoples' imaginations, but in this case it also captures peoples' dollars."
Disclosure: At the time of this writing, Tim Parker had no position in the above mentioned companies.
Posted-In: 3D Printing 3D Systems VoxeljetShort Sellers Tech Best of Benzinga
View Comments and Join the Discussion!