Steve Wozniak Wants Apple To Release An Android Phone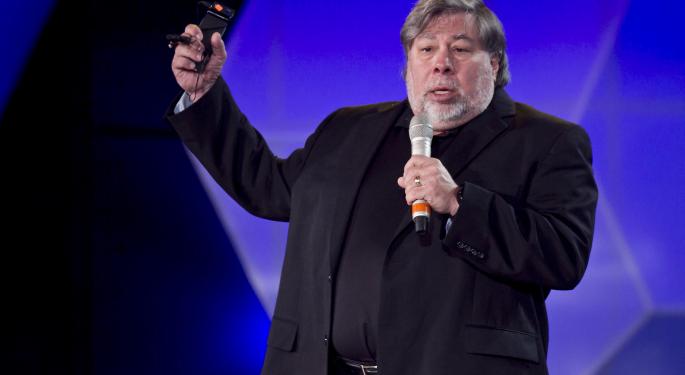 While Apple (NASDAQ: AAPL) may sometimes hope that he would keep quiet at times, Apple co-founder Steve Wozniak often has some interesting words regarding his former employer.
This time is no different and it might be one of his most, let's say, interesting comments yet.
Speaking at the Apps world North America conference in San Francisco, Wozniak said this:
"There's nothing that would keep Apple out of the Android market as a secondary phone market," said the Woz. "We could compete very well. People like the precious looks of stylings and manufacturing that we do in our product compared to the other Android offerings. We could play in two arenas at the same time."
Now, if you think comments like that would get him kicked out of Apple HQ faster than he can say iPhone, don't worry, he's not involved in the day to day operations of Apple any more but despite an almost audible sigh coming from Cupertino, his idea isn't so crazy, notes many of the tech bloggers that got their hands on this quote.
Related: IBM Looking to Sell Chip Manufacturing Business
The Android platform is open-source, meaning Apple could use it without fear of a Samsung-style lawsuit. With the huge market share that Android devices hold, an iAndroid could certainly appeal to the lower end market that Apple can't seem to tap.
Of course, Apple has its own operating system that it's fans love and it has showed no interest in cheapening its brand to reach the extreme value market so it's pretty safe to say that Apple would probably produce PCs before it released an iAndroid. (In other words, never.)
But Woz had some other notable quotes. He defended Apple's decision to not throw every feature into its phones as it could. "If you have something really good, don't change it; don't screw it up," he said. "You pick up a Samsung phone and say smile and it takes a picture, but how much innovation is that? That's just throwing in a lot of features."
He later praised Apple for its ability to say no to some of the features that other handsets brag about.
When Woz talks, people listen closely—even if some of his ideas are pretty "out there."
Disclosure: At the time of this writing, Tim Parker was long Apple.
Posted-In: Android Apple iPhone Steve WozniakTech Best of Benzinga
View Comments and Join the Discussion!