Google Chairman Eric Schmidt Receives $100 Million In Stock Bonus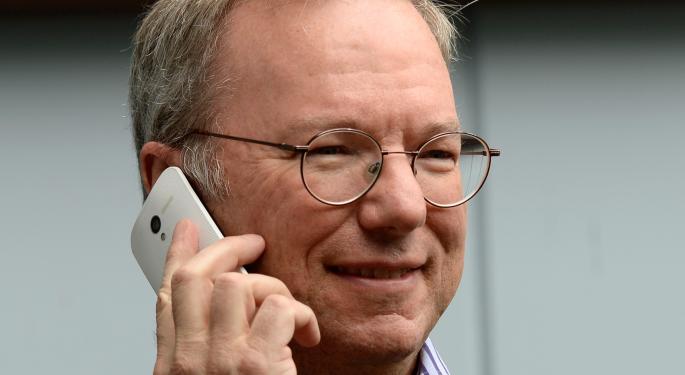 According to a recent SEC filing by Google (NASDAQ: GOOG), the Mountain View-based giant is going out of its way to make sure Chairman Eric Schmidt is happy.
On Valentine's Day, Schmidt will not only receive a $6 million cash bonus, but also $100 million in stock options. The cash bonus is "in recognition of his contributions to Google's performance in fiscal year 2013." Google's stock price has risen 55 percent in the past year and is trading at over $1000 per share.
The $100 million in stock will be vested over four years, and comes on top of an earlier $100 million stock award given to Schmidt when he was replaced by Larry Page as CEO of Google.
The New York Times writes that this past year was pretty important for Schmidt. While he doesn't run Google anymore, he's still a big part of the company. The SEC filing comes as Google is expected to announce a settlement with the European Union over a three year antitrust investigation.
See also: Green Mountain Coffee Roasters Enters Ten Year Agreeement With Coca-Cola
Schmidt was integral in these settlement talks, writes the Times, saying that he even texting Joaquin Almunia, the European competition commissioner.
Schmidt already has amassed quite a wealth, with an estimated fortune of $8 billion, but when Google went public in 2004, Schmidt declined to accept a large salary.
During his last six years as CEO, at his request his salary was capped at $1 and his annual bonus didn't go above $2000. Page, the current Google CEO, also gets $1 per year but has an estimated $25 billion, largely in Google stock.
Tech executives have always made a lot of money, especially more recently with tech giants like Google and Apple becoming more and more successful and integral within society.
While these paychecks might seem absurdly large, Schmidt's had a busy year, with Google releasing a number of new devices, that extremely popular Chromecast, and released a number of software and service updates that have gotten a lot of critical acclaim.
Posted-In: Chromecast Eric Schmidt Joaquin Almunia larry pageTech Best of Benzinga
View Comments and Join the Discussion!