Former GETCO Technologist Shifts To Video Games, Develops 'BandFuse: Rock Legends'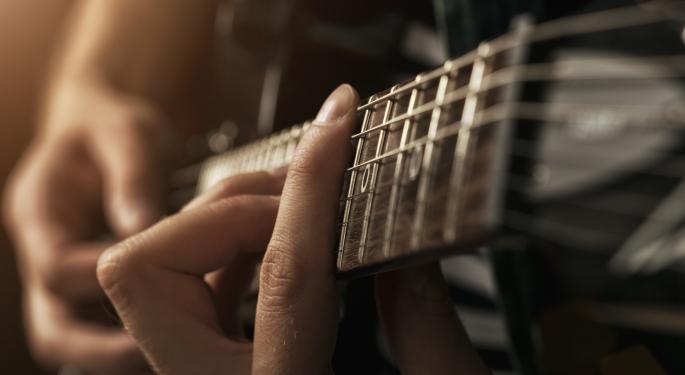 Few would think that stocks and video games have much in common.
One of those industries is the lifeblood of the financial community. The other is dedicated to creating interactive entertainment.
But it turns out that similar skills are needed for both industries.
Jon Heiner, the game development director for Realta Entertainment, recently completed his work on the video game BandFuse: Rock Legends. Long before joining Realta, Heiner worked in high-frequency trading and quant development in New York and London.
"One of the things that's most important in the financial trading markets is precision," Heiner, who worked for GETCO before it merged with Knight Capital Group, told Benzinga. "You need to be very precise and you need to be very disciplined."
Heiner said that there is an "enormous amount of value" for being precise and flexible. He said that this is very similar to the game industry.
"You need to be disciplined and precise and know what you're doing," Heiner explained, adding that the flexibility element comes into play when the market changes and developers need to adapt.
Related: Spreaker to Announce 'Major' American Media Partnership to Help Musicians, Radio Personalities Go Mainstream
"The area that's both the same and different in both cases is the craft," Heiner continued. "You can have great technology in either space. But technology in and of itself is only a tool. And it's in knowing how to use that tool, knowing how to craft an experience in gaming or knowing how to develop a strategy from your alpha -- from whatever it is that you understand about your particular instrument that you're trading and the nature of that particular sector -- that's going to make you successful or not."
It Starts With Gaming
Unlike most music games (Guitar Hero, Rock Band, etc.), BandFuse: Rock Legends was designed from the ground up to work with a real guitar. Instead of creating a new user interface, Realta built an enhanced version of the tablature that is already familiar to most guitar pros and novices.
When Heiner joined the project, the developers had created a "loose prototype" for what they wanted, but Heiner said that the core technologies were not in place yet.
"My [job] was to come in and take the general idea of what they wanted to do and then take that over and execute on it," said Heiner.
The whole process -- which involved the creation of an entirely new game engine -- took three years to complete.
"This is a game where we took pretty much all of the computing power in the console that you would normally push towards graphics and we used as much as we could for the audio engine," said Heiner.
Related: Can Google Surpass Spotify, Beats Music With YouTube Music Service?
That engine can analyze raw bass and guitar signals at a spectral level. It's so powerful that it could be used for applications within other games, as well as those outside of gaming.
"You see a lot of techniques that come out of video games," said Heiner. "Video games tend to be on the bleeding edge of technology. A lot of the things that are going on with parallelism and using GPUs (graphics processing unit), those techniques have worked their way into other forms of analysis."
In theory, the engine could take Heiner back to his roots in high-frequency trading. But he currently remains focused on game development.
Disclosure: At the time of this writing, Louis Bedigian had no position in the equities mentioned in this report.
Posted-In: BandFuse: Rock Legends Getco guitar hero Jon Heiner Realta Entertainment Rock BandTech Interview Best of Benzinga
View Comments and Join the Discussion!