Google Wallet Vs. PayPal Vs. Square Wallet Vs. Loop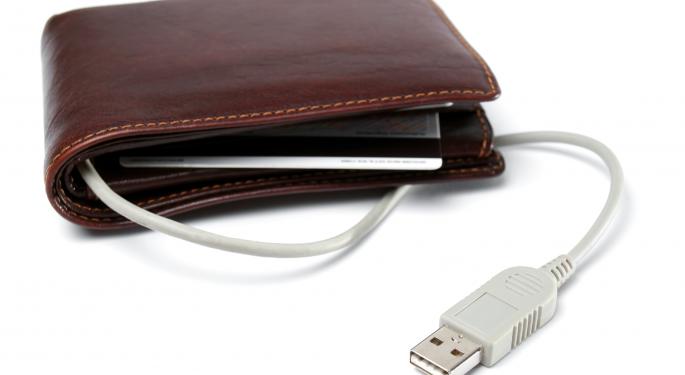 Are virtual wallets and mobile payment solutions the way of the future?
In June, Gartner estimated that mobile payment transaction values would reach $235.4 billion in 2013. By 2017, Gartner expects the value to swell to $721 billion.
This is exciting, but there are some things that consumers should know before they join the virtual wallet revolution. Read on to see which one is right for you.
Google Wallet
Google Wallet is one of the most hyped mobile payment systems on the market.
The app allows users to store loyalty cards from various retailers, send money to family and friends, and buy items instantly on mobile websites.
Those are nice features, but Google Wallet's main draw is that it allows users to store credit cards in their phone, creating a virtual "wallet."
Hundreds of thousands of merchants are supported, but Google Wallet has a long way to go before every consumer can use it at every location.
Google Wallet users receive 24/7 fraud monitoring, as well as purchase protection that covers 100 percent of all eligible unauthorized transactions.
Better still, users can disable their phone and/or credit and debit cards within their Google Wallet accounts. This could be helpful in preventing a problem after it happens, but it wouldn't be effective in stopping the Target data breach.
Related: More Bad News For Target
PayPal
PayPal is a massive force in e-commerce, so it's no surprise that its mobile payment solution is catching on with consumers.
The company offers a familiar set of features for mobile users, who can link their bank account or debit/credit cards to their PayPal account. From there, users can shop with a single tap at participating merchants.
One of the more unique PayPal features is that it allows users to pay ahead at select retailers.
The best feature has more to do with security than transactional convenience, however.
David Kennedy, founder of TrustedSec (an information security firm), recently explained why virtual wallets are such a cool concept. He told Fox News that PayPal offers a "one-time credit card number where basically you use a credit card once and then it changes the number again."
This could have theoretically allowed customers to sidestep the Target fiasco.
Square Wallet
Square is the official credit and debit payment solution at more than 7,000 Starbucks locations. Not counting Starbucks, the company processed $10 billion in 2012. Square is expected to process $15 billion through the end of 2013.
Merchants like it because it provides them with a cheap alternative to traditional PoS (Point of Sale) terminals. Consumers like it because it's quick and easy.
While not all supporting merchants are set up correctly, Square is supposed to allow a person to more or less pay automatically. After checking into a location (which can be done manually or automatically), a user can swipe the pay button, share his or her name with the cashier, and move on.
Tips are calculated automatically with various presets (five percent, 10 percent, etc.), and users have up to an hour to choose the tip after a purchase has been made.
Like most virtual wallet applications, Square Wallet allows users to store their credit cards and loyalty cards. The company brags about this data being stored "securely on Square servers" instead of a user's device. But if the company is ever hacked (a la Target), the results could be catastrophic.
Related: Apple TV vs. Roku vs. Chromecast vs. NeoTV vs. Bravia Smart Stick
Loop
Loop is an entirely different take on mobile payments.
Instead of using NFC (Near Field Communication) or some other familiar technology, Loop uses an add-on device (a Fob or a smartphone case) that can interface with 90 percent of retailers' existing Point of Sale terminals.
In October, Loop co-founder Will Graylin told Benzinga about the product.
"We solved a very tough problem, which was, 'How do you get the phone to talk with the existing point of sale without having to change the point of sales out there?'" he said.
Like most virtual wallets, consumers can load their loyalty, credit and debit cards, which are protected by a number of security measures.
Unlike PayPal, it does not appear that any of those measures could have allowed a user to sidestep the Target data breach.
Loop is currently available for pre-order on iOS. The Fob (a small adaptor that plugs into an iPhone) retails for $34 and is expected to ship sometime this month. It currently works with the iPhone 4, 4S, 5, 5C and 5S. Android support will be added during the first quarter of 2014.
Loop has also created a case for the iPhone 5 and 5S that retails for $99. Either the Fob or the case is needed to interface with regular PoS terminals.
This may turn off some users (most other virtual wallets are 100 percent free), but Loop's competitors are only compatible with select merchants. Loop's universal support could give it an advantage.
Disclosure: At the time of this writing, Louis Bedigian had no position in the equities mentioned in this report.
Posted-In: Apple David Kennedy Fob Fox News google wallet iPhone iPhone 4Tech Best of Benzinga
View Comments and Join the Discussion!