REVIEW: Acer Aspire M5-583P-6428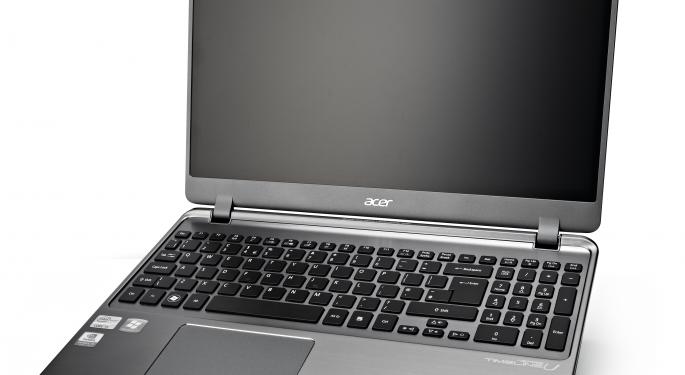 When Intel (NASDAQ: INTC) created the "Ultrabook" brand nearly two years ago, the company had one competitor in its sights: Apple (NASDAQ: AAPL).
Known for building MacBook Pros and other sleek-but-heavy laptops, Apple surprised the world when it revised the MacBook Air in the fall of 2010.
The new model offered all of the features that consumers had come to love about Apple's iDevices. It was super-thin, ultra-light and contained flash memory that was faster and more durable than conventional HDDs (hard disk drives).
The initial batch of Ultrabooks attempted to offer the same things, most notably flash memory and a thin body.
With a high price, cheap materials and other issues, the first batch of Ultrabooks left a lot to be desired.
Now that the dust has settled, PC manufacturers have begun to realize that it's not always the size that matters most. Features, functionality and price are vastly more important.
When developing the Aspire M5-583P-6428, Acer did not attempt to make it the lightest or thinnest computer on the block. While its sleek, metallic finish may be compared to any number of Ultrabooks, the machine is more of a traditional notebook.
That's not a bad thing though. After using the newest Aspire M5, it is clear that PC manufacturers don't have to build an Ultrabook to produce an ultra machine.
Related: Acer Targets Schools and Students with New C7 Chromebook
Performance And Battery Life
Intel promised big things from its Haswell (the fourth-generation in its Core i series) microarchitecture. While Ivy Bridge (the last iteration) provided minimal improvements over other processors, Haswell seems to be the real deal.
For the Aspire M5, Acer chose a fourth-generation Core i5 processor. Though it is only a dual-core machine, the notebook performance was stellar for day-to-day tasks and activities. Windows 8 apps, Web browsers and media players (such as Apple's iTunes) loaded instantly and ran near-flawlessly regardless of how many programs were running simultaneously.
Part of this can be attributed to the Aspire M5's 8GB of RAM, but the Core i5's benefits are not to be ignored. Intel's new processor has allowed Acer to build a machine that lasts for a maximum of six and a half hours. Real-world usage (with the screen at 50 to 60 percent brightness, the audio cranked high and multiple programs running, including videos) is closer to three to four hours. That's pretty solid, especially for a lower-cost notebook.
Related: Windows 8.1 'Continues The Vision' For W8, Due October 17
Design And Display
The Aspire M5 looks and feels like a well-built machine. The 15-inch laptop features an attractive metal chassis and a smooth black "soft touch" finish on the bottom.
The glossy, 15.6-inch display doesn't offer the highest resolution (1366 x 768) available, or the best color saturation. But that didn't seem to be a problem until the Aspire M5 was placed next to a couple of HD monitors running at 1920 x 1080. Then it was clear that the Aspire M5's color palette was not as accurate as those featured in a high-end laptop.
That said, the picture quality is very crisp and clear. Users aren't likely to strain their eyes or grow tired of staring at this display after hours of use.
Getting In Touch
Those who are new to Windows 8 may not think that they want a touch screen unless the device doubles as a tablet.
This is a fair assumption to make. Who would bother touching a screen that extends back behind a keyboard and touchpad?
When surfing the Web, however, the touch screen becomes an invaluable feature. Between smartphones and tablets, consumers spend a great deal of time using touch displays. Inevitably, anyone who tries the Aspire M5 will find themselves touching the screen -- and once they start, they will find it hard to stop.
The Aspire M5 has one of the better keyboards on the market. The keys are flat and are spaced a couple centimeters apart, which is a vast improvement over the mushy, condensed keyboards of other laptops.
In designing the touchpad, Acer seems to have taken a few cues from Apple. The clickable touchpad buttons are underneath the pad itself, just like a MacBook. It also features two-finger scrolling that allows the user to surf the Web with minimal effort.
Unfortunately, that latter feature is more problematic than it is effective. While the side-by-side scrolling tends to work very well on the Windows 8 Start screen, the touchpad doesn't always respond when trying to scroll up and down a website.
Bottom Line
The $699.99 MSRP has been reduced to $649.99 by the notebook's exclusive retailer in America, Best Buy (NYSE: BBY).
Other laptops in this price range skimp on memory, storage (the Aspire M5 comes with a 500GB hard drive) or some other features.
Without a hands-on test of all the Haswell-based notebooks available, it is hard to say that the Aspire M5 is the definitive machine in its class. Regardless, budget-conscious consumers are likely to love this notebook.
Disclosure: At the time of this writing, Louis Bedigian had no position in the equities mentioned in this report.
Louis Bedigian is the Senior Tech Analyst and Features Writer of Benzinga. You can reach him at 248-636-1322 or louis(at)benzingapro(dot)com. Follow him @LouisBedigianBZ
View Comments and Join the Discussion!
Posted-In: Acer Apple Aspire M5 Aspire M5-583P-6428 Core i5 HaswellTech Reviews Best of Benzinga