What Can Barnes & Noble Do With its Empty Stores?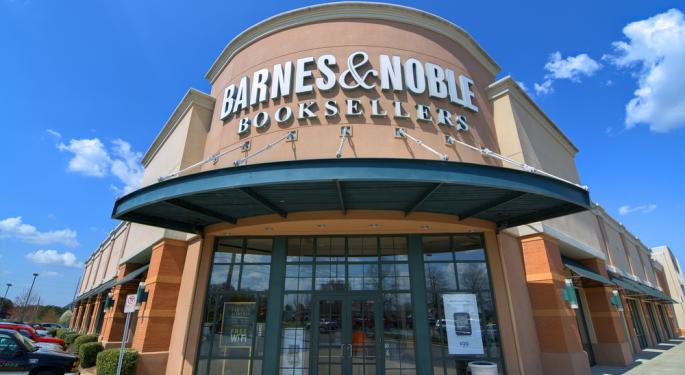 Barnes & Noble (NYSE: BKS), the nation's largest brick-and-mortar bookseller, is not having the best quarter. The company does not want to shut down its retail business but it might not have a choice.
In its second-quarter earnings release, the bookseller announced that retail revenue had decreased three percent "due to flat comparable store sales, store closures and lower BN.com sales." Meanwhile, the company's Nook business continued to grow with sales rising 38 percent.
As long as the retail outlets are profitable, Barnes & Noble will not have to close them. But if the declines continue, it might be forced to let go of that part of the business.
There are, however, a few things the company could do with its empty stores.
Turn Them Into Mini-Warehouses
Amazon (NASDAQ: AMZN) and Barnes & Noble think that the future of books is in digital distribution. Right or wrong, there is still a lot of money to be made selling hardcover and paperback copies of new books. But that doesn't mean Barnes & Noble has to employ a full staff at retail outlets that stay open seven days a week.
Rather, the company could transform its stores into warehouses that ship and sell books to nearby customers, as well as those who wish to walk in and buy books in-store. Most of the store could be blocked off and used for storage. Up at the front consumers would see the familiar checkout counter, as well as a Nook kiosk. Barnes & Noble could allow users to browse the store's selection through one of the Nooks. For books that are not available in Nook form, consumers could use another kiosk -- a Windows PC, perhaps -- that would feature excerpts from the store's entire collection.
This would not provide Barnes & Noble with a long-term solution. But it could reduce overhead (if the stores were mostly used as warehouses, the company would not need as many retail employees) and keep the retail outlets running a little longer.
It could also run the company into the ground if its loyal customers hate the new format, so it would be best to test it out before going nationwide.
Sell Them to Amazon
If Best Buy (NYSE: BBY) closes it doors in a few years, Amazon is going to need a showroom to sell its products. It cannot rely on Target (NYSE: TGT) or Wal-Mart (NYSE: WMT) to pull this off -- their stores do not carry enough electronics. They also lack the visual appeal of Best Buy.
In that sense, Amazon could simply acquire Best Buy. But Barnes & Noble's outlets would be a much cheaper (and less risky) option.
Turn Them Into Halloween Costume Outlets
In 2011, consumers watched in horror as one Metro Detroit mall transformed a closed GameWorks arcade into a temporary store for cheaply made Halloween costumes. This is a common scene all over America; failed businesses sell their retail space to companies that specialize in selling Halloween items.
If Barnes & Noble runs out of options, the retailer could replace its bookshelves with broomsticks, pumpkins, toxic makeup and other ghoulish delights.
Follow me @LouisBedigianBZ
Posted-In: Amazon Barnes & NobleTech Best of Benzinga
View Comments and Join the Discussion!