Can Microsoft's $499 Surface Defeat Apple's iPad?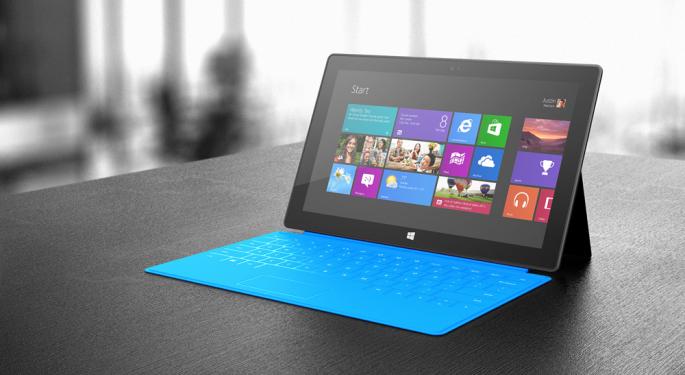 Days before Apple (NASDAQ: AAPL) is expected to unveil a cheaper and smaller version of its popular tablet, Microsoft (NASDAQ: MSFT) has announced that Surface will go head-to-head against the third-generation iPad with a starting price of $499.
Surface partially undercuts the iPad by offering are a minimum of 32GB of memory versus Apple's (NASDAQ: AAPL) 16GB iPad. Microsoft is also selling its 32GB Surface with a keyboard cover for $599 -- the same price as the 32GB iPad, which does not come with a cover. Apple charges an additional $39 for its keyboard-less polyurethane cover and $69 for its leather cover.
While consumers can purchase the Surface covers separately for $119.99 (for the Touch Cover) and $129.99 (for the Type Cover, which features actual buttons), Microsoft will also offer a $699 package that includes a Touch Cover and a 64GB Surface. This is the same price Apple charges for the 64GB iPad, which does not include the additional accessory.
These differences are small enough for the average consumer to overlook, but could prove to be critical motivators among techies and business users who demand more from their tablets.
Hype and Rumors
Up until Tuesday morning, some prospective customers were still hoping that Microsoft could achieve its rumored $199 price point. In August, Crowell, Weedon & Co. analyst James D. Ragan warned Benzinga readers that a sub-$200 MSRP may not be feasible. "[It] seems like a low price for the technology in there," he said. "I'd be a little surprised if that's the price.
"They have to buy all the components -- the SSD, the processor, NVIDIA (NASDAQ: NVDA) processor, a touch screen. I just think it'd be hard to make money at $199 on that."
The $499 price tag may be hard to swallow for those who believed Microsoft would sell the tablet at $199. But in doing so, the Windows maker would have likely required that users sign a two-year contract for one of its services, such as Office 365. In the long run, consumers may have not saved any money.
By meeting Apple's pricing structure, Microsoft might have actually made a very smart decision. The price is high enough that it will prevent consumers from assuming that Surface is just another Kindle Fire, but low enough to steer some sales away from the competition.
Unlike the PlayBook from Research In Motion (NASDAQ: RIMM) and the TouchPad from Hewlett-Packard (NYSE: HPQ) -- two failed tablets that started at $499 -- Surface comes to the market with one significant advantage: Windows RT.
It may not be the same operating system as Windows 8, but it is a close variation that will give Surface the power to run full-fledged Microsoft programs, including Office. Other tablets are limited to "apps," which tend to be watered down versions of their PC counterparts. This provides Microsoft with an advantage over every other tablet currently in production.
Some of the biggest competitors to Surface will come from Dell (NASDAQ: DELL), Hewlett-Packard and other PC partners that currently work with Microsoft. But in providing consumers with the most bang for their buck, Microsoft appears to be the clear winner.
Big Challenges
In promoting Surface, Microsoft can spend as much as it wants on advertising. But until consumers and business professionals are able to try the device themselves, the ads might not have much effect.
Microsoft is trying to change this by opening new stores across the country. Until then, it might need to enlist in the help of Best Buy (NYSE: BBY), Wal-Mart (NYSE: WMT), Target (NYSE: TGT) and other retailers to set up demo kiosks and big displays that attract consumers. The Windows maker may also need to embark on a mall tour to bring Surface to the masses this holiday season.
In 2013, Microsoft might have to go even bigger. The company once sponsored Lollapalooza (back when it was still a touring event) to promote the original Xbox. This helped Microsoft expose its game console to an entirely new audience and could be a critical part of its long-term strategy for Surface.
Microsoft may also want to consider building temporary mall kiosks (similar to the ones Dell opened across the United States) to serve as a placeholder until more of the company's retail stores have opened.
Follow me @LouisBedigianBZ
Posted-In: Apple iPad iPad Mini Microsoft Office Surface Windows 8Tech Best of Benzinga
View Comments and Join the Discussion!