Tesla Racing Ahead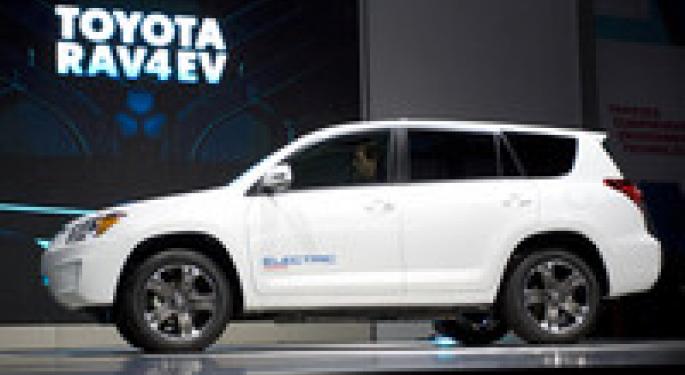 The stock of electric car maker Tesla Motors Inc. (NASDAQ: TSLA) got a boost of four percent yesterday after the company said it expects $60 million in revenue for building the electrical system for the new Toyota Motor Corp. (NYSE: TM) RAV4 sport utility vehicle.
Shortly after the Silicon Valley company's initial public offering in June, Toyota took a small $50 million stake in the company. Tesla's car battery technology is reportedly highly regarded in the nascent electric car industry. The partnership calls for Tesla to build the battery, motor, gearbox and electric control system for the RAV4, which is expected to be sold in 2012.
The rise in Tesla's stock price was also the result of favorable reaction to other news from an investor presentation. Tesla said it has completed the acquisition of the former General Motors Corp. (NYSE: GM) and Toyota plant in Fremont, California, that will be used to manufacture its electric cars.
The company sells the $109,000 Roadster sports car. A $57,000 new sedan called the Model S is due out in 2012. Tesla said it has received 3,000 reservations of $5,000 a piece for the car. The Model S will get up to 300 miles on a single charge, far more than any electric car presently on the road or planned for future.
Tesla also announced at the investor conference that it has an order with Daimler for 1,500 two-seater Smart Fortwo electric drive cars, and expects an order for 500 Mercedes A-Class electric cars.
Toyota and Daimler are adopting Tesla's laptop battery technology for electric cars, reports Bloomberg. Both automakers are testing lithium-ion batteries assembled by Tesla costing less than larger, dedicated car batteries used by General Motors, Nissan and Mitsubishi Motors. The more economical Tesla technology is important because, at present, electric vehicles cost twice as much as gasoline-engine cars because the batteries are so expensive, according to consultant Frost and Sullivan.
The larger lithium batteries cost about $700-$800 per kilowatt hour to produce, while mass-produced packs using small laptop cells cost about $200, according to Martin Eberhard, Tesla founder and former chief executive officer.
"When the customer decides 'This is the car I want,' we want to be that full-line maker who has the answer for that customer," said Aiko Toyoda, the president of Toyota, the largest automaker in the world. "By using both car batteries and laptop batteries, we are able to provide customers with a wider variety of choice."
Sanyo Electric is the world's biggest makers of batteries. Panasonic Corp. (NYSE: PC), the majority shareholder in Sanyo, supplies most of the lithium-ion cells used by Tesla. Last month, Panasonic bought a $30 million stake in Tesla.
Barry Bazzell is a Benzinga contributor who focuses on Bay Area technology stocks. He blogs about tech companies and startups at Silicon Valley Blog.
View Comments and Join the Discussion!
Posted-In: Tech