3 Must-Read Startup Tips From The CEO Of Fathead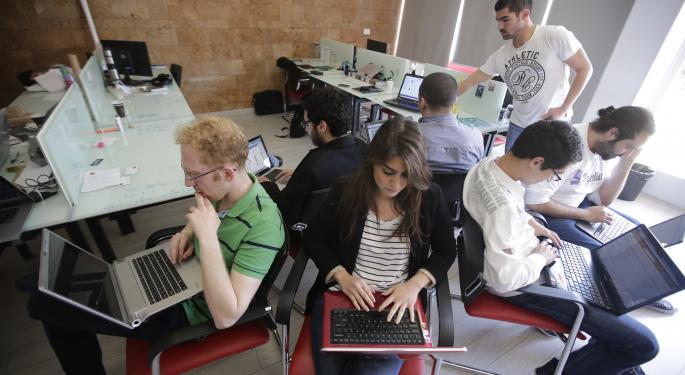 Pat McInnis is a 21-year veteran of the Detroit-based Quicken Loans family of companies and the chief executive officer of Fathead since 2009.
He helped reshape Fathead's culture and began moving the company into a new direction.
McInnis is a business and management pro, and he took the time to sit down with Benzinga and share some of his best tips for success in startups and growing businesses.
1) Get The Right People On The Bus
The people thing is huge, according to Pat McInnis.
"People are your greatest asset," McInnis said. "I always say, 'Have the right people on the bus.'"
He explained that a major part of Fathead's own growth was investing in talented human capital and putting them in the right positions.
But it's not just about bringing the right people on board -- it's about cultivating relationships. Leaders must be connected to their people, he said, because that relationship will be very indicative to a company's success.
A healthy dose of school pride at Fathead HQ for #CollegeColors Day. What colors do you bleed? pic.twitter.com/QApHokPfNx

— Fathead (@Fathead) August 29, 2014
2) Foster An Environment Where Ideas Are Welcome
McInnis said it's vital to promote a workplace where ideas are heard and taken seriously. This requires going against that first instinct of just turning down an idea that isn't immediately loved or hasn't worked in the past, he said.
"I'm a firm believer in: Just because something didn't work before doesn't mean it can't work today with a different twist or looked at in a different way," he said.
Fighting the human nature element of just saying "No" is also a big part of this, according to McInnis.
He's referring to one of the Quicken Loans ISMs, or ideas the family of companies live by, that says, "Yes before no." The concept behind this is to approach all ideas open-mindedly before simply turning them down.
McInnis said that people will sometimes come to him with ideas, and he always listens.
"I always try to dig deeper because you just never know when that one idea will hit; when it will work," McInnis said. "And we've had plenty of those."
In addition, he said the execution is just as important as the idea, itself. Some people may be good at ideas, while others champion execution; but it is imperative to have both, he said. He's referring to his favorite ISM: "Innovation is rewarded. Execution is worshipped."
"We need ideas, but an idea is only as good as someone who can take that idea and put it into play," McInnis said.
3) Have The Leadership Work In The Trenches
Before McInnis was the CEO of Fathead, he worked as a loan officer for Quicken Loans when it was still called Rock Financial. What stuck out to him most was the open environment where everyone talked to each other.
"The leadership was involved with the rank-and-file -- the people doing the work on the floor every day," he said. "They constantly walked the floor. They were constantly coaching and talking to you."
The connection between all levels of company employees created a family-like atmosphere, McInnis said, and brought people closer together. Many of those employees have moved up the ranks throughout the years and went on to be leaders at different areas of the company -- including McInnis.
"But the leader and the rank-and-file team member -- they're one and the same," he said. "We (the leaders) are part of them. We're in the mix. We're in the trenches helping you be successful."
McInnis said these philosophies were born with the small company that Quicken Loans used to be and have carried forward into the much larger family of companies that it has become.
View Comments and Join the Discussion!
Posted-In: Fathead ISMs Pat McInnis Patrick McInnisEntrepreneurship Success Stories Startups Interview Best of Benzinga