Does Groupon Help Businesses Thrive or Bury Them Alive?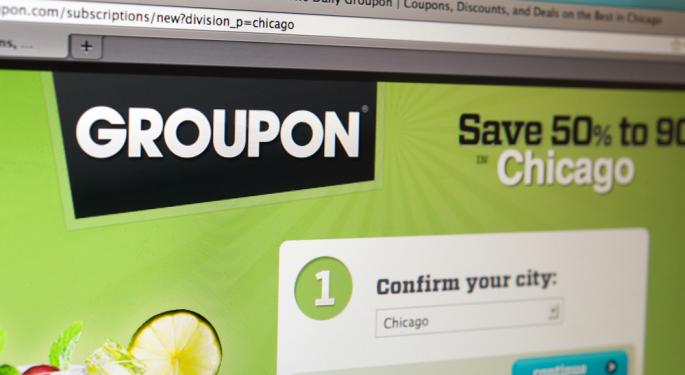 From its inception, Groupon (NASDAQ: GRPN) has been praised by consumers for providing killer deals at unlikely places.
The Gap (NYSE: GPS), Starbucks (NASDAQ: SBUX) and American Apparel (NYSE: APP) are among the biggest firms that have given consumers a memorable deal.
Groupon is not just about promoting the biggest retailers and coffee shops with vouchers for 50 percent off. The site is very much a tool for small and growing businesses to advertise. This has allowed millions of consumers to discover new places that they may have otherwise missed.
On the downside, it has also led to a number of high-profile complaints, including a man who insists that Groupon destroyed his waffle shop.
Ashley Coslett begs to differ. She owns the Awful Waffle in Salt Lake City, Utah. After one successful Groupon campaign, she came back to Groupon -- not once, but twice.
In her testimonial on Groupon Works, Coslett praised Groupon's ability to help businesses reach new demographics.
"Groupon really reaches out to a demographic that normally would not have been reached because our typical demographic are college students kind of going to class or coming out on a date night, but because of Groupon, we've had a lot of families come in, a lot of older people that have no idea what the Awful Waffle is," she claimed.
While the Awful Waffle merely expanded its potential customer base, Carolyn Franks believes that Groupon saved her petting zoo.
"We went from about 200 visitors a week to 2,000 visitors a week, and with the Groupon money, we increased the number of pens, the number of animals," Franks, who owns ZOOMARS in Orange County, California, said in her testimonial. "We were able to make the zoo bigger because of so many new customers coming from Groupon."
Franks has used Groupon seven times to promote her business.
Destinee Wagner has done the same. She owns Growing Younger, a medical weight loss, anti-aging and anesthetics clinic in Huntsville, Alabama.
"We have chosen to work with Groupon more than once because we have seen a growth in our business since working with Groupon," Wagner proclaimed in her testimonial. "I would say it's been about a 40 percent return."
All told, there have been more than 1,000 positive case studies published on Groupon Works.
Citing a report from ForeSee (a customer satisfaction and analytics company), Groupon proudly touts one key statistic: "91 percent of daily deal customers have already or plan to conduct business with the merchant again since buying the deal."
With so much praise -- and a high rate of customer retention -- where are all the negative reports coming from?
Most media outlets have repeatedly told the same story about Back Alley Waffles.
"Due to the shocking business practices of an obscenity known as 'Groupon' -- contemptible even by the nearly non-existent standards of the modern corporation -- I can no longer afford to sell waffles for $8.00 and still pay, for example, my employees something north of a subsistence wage," the former restaurant wrote on its website. "Therefore, starting now, waffles are $450.00 each and are available by appointment only."
Groupon defended itself by detailing why it did not cause Back Alley Waffles -- which was located in Washington, DC -- to go under. Back Alley responded to Google's remarks in an attempt to salvage the company's image.
However, it turns out that the restaurant was going to be shut down anyway because it was not legally allowed to sell food.
Regardless, Back Alley Waffles' closure is the most commonly reported negative story associated with Groupon.
There are a handful of other (lesser-known) negative reports as well, including a Chicago, Illinois man who claims that Groupon deals never disappear.
"Understand that carefully," the man wrote in his Ripoff Report. "GROUPON WILL NEVER DELETE OR REMOVE THE DEAL FROM THE WEB.
"…So now, almost on a daily basis, I am getting people coming into our business saying, they are not paying the price we charge when others got this deal. They want the deal we offered on Groupon 6 months ago.
"End result of doing business with Groupon... No money from the deal / no sales and 100s of future customers upset and angry because we cannot give them the deal they constantly see online."
Posies, a bakery and cafe in Portland, Oregon, is also frequently cited as a case against Groupon. However, the restaurant's owners do not blame Groupon for their troubles.
"I take full responsibility for my decision, as you will read in the post below," they wrote in a blog post. "Please do not attempt to interpret this post as me blaming Groupon or our customers for anything. I am merely sharing the experience. The decision to run a Groupon campaign was my own decision, and one I regret. Lesson learned."
Thus, Groupon may not be for everyone -- but it seems that the negative reports have been greatly exaggerated.
Full Disclosure: Lightbank, the technology investment vehicle from Groupon co-founders Brad Keywell and Eric Lefkofsky, is one of Benzinga's investors.
Louis Bedigian is the Senior Tech Analyst and Features Writer of Benzinga. You can reach him at 248-636-1322 or louis(at)benzingapro(dot)com. Follow him @LouisBedigianBZ
View Comments and Join the Discussion!
Posted-In: GrouponSuccess Stories Tech Best of Benzinga