From Battlefield To Boardroom: Former Navy SEAL And Bottle Breacher CEO Talks About How Lessons Translate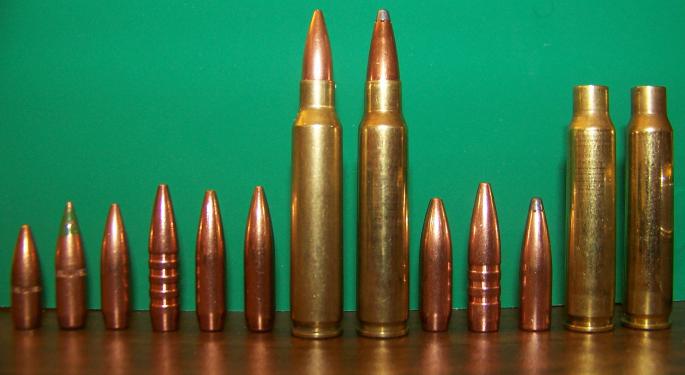 U.S. armed forces training teaches individuals much more than how to shoot straight and follow orders. The variety of skills needed for a successful stint in the military can be as wide-ranging as what you'd expect to find at the newest Silicon Valley start-up, and this experience is carried over when these brave men and women end their active duty and enter the private sector.
Benzinga recently spoke with Eli Crane, a former Navy SEAL who, along with his wife Jen, owns Bottle Breacher. If that name sounds familiar, it should. The couple was featured in an episode of ABC's hit show Shark Tank back in 2014 where shrewd investors Kevin O'Leary and Mark Cuban made a deal to invest $150,000 in the company, which makes hand-crafted bottle openers out of 50 caliber bullets.
We asked Crane about four skills service members often cite as having served them well throughout their civilian careers.
Teamwork
On teamwork, Crane said, "I'm glad you asked me about that. Even though it seems kind of obvious, you'd be so surprised at how many people are just incapable of it, whether they let their ego get in the way, or nobody ever taught them how to play well with others. In the SEAL Teams, the first thing they tell you when you show up is you always have to have a swim buddy with you."
A swim buddy is a fellow SEAL student who is never allowed to be more than six feet away from you — whether you're using the bathroom or jumping in the Pacific Ocean. If your swim buddy isn't with you, you're going to face some consequences. Other branches of the military have similar concepts; for example, the Army's version of swim buddies is "battle buddies."
"What they're trying to do is teach you that by yourself, on the battlefield, you are insignificant, you are a big Nothing Burger. The only thing that gives you security is your brothers on your right and your left. Business is exactly the same. I knew going into business how many weaknesses I had, so the very first thing I did was recruit my wife to be in a sense my swim buddy, because she was so strong in so many areas that I was weak in."
Bottle Breacher hovers around 25–35 employees, and the Cranes view them all as "swim buddies."
Responsibility
"Responsibility, in my opinion, goes hand in hand with accountability. I don't think you can ever learn to be responsible for a project, a department, certainly not a company before you've learned how to be accountable," Crane remarked. In military training, the instructor staff doesn't care to hear excuses or rationalizations for why assigned tasks weren't completed.
"They wanted you to learn that warfare is not fair. You had to learn to say something that most people never learned to say: 'That's my fault, that's my responsibility, I take ownership of what just happened.'" Crane has brought that mindset with him into business.
Rather than using his lack of prior business experience as an excuse for why Bottle Breacher might underperform, Crane credits his military background for teaching him to assess and adapt to his competitive environment. Making excuses "doesn't work on the battlefield, and it doesn't work in the boardroom," Crane said. Furthermore, service members are taught how to take ownership and make necessary changes in order to succeed.
Initiative
Although military personnel operate under orders, at some point, each soldier must determine how best to accomplish the organization's objectives. This opportunity to take initiative was something Crane appreciated about SEAL school, where, much like a small business, it was imperative to find a way to achieve goals with limited resources.
"You have to be able to do a whole lot more, with a whole lot less - less firepower, less bodies, etc. One of the only ways to do that is by having 'thinking shooters.'" This is how special forces refers to its ideal operators, who are able to think, move and communicate. Those who need to constantly be micromanaged aren't welcome and are often weeded out.
"People who are self-starters and can quickly catch on to what the priorities are," are in high demand for every business owner, Crane added.
Diversity
Many companies realize that by integrating workers from culturally diverse backgrounds, their workforce becomes much stronger. Count Bottle Breacher among them. Walking through Bottle Breacher today, its founder says you'd see people of all different sizes, shapes and colors.
In the midst of difficult missions, it's imperative for soldiers to put aside petty personal prejudices and focus on the task at hand. It's a lesson Crane learned as a boy and took with him through both his military experience and his venture into entrepreneurship.
"That's one thing I love about the military," Crane said, "it's a melting pot, just like this country. My parents taught me that I wasn't better than anybody. That diversity is what makes us strong. We have so many different people that can offer different perspective. Leaders who don't harness that, that don't respect and appreciate that diversity are destroying their organization because they don't have the ability to be a dynamic leader and really appreciate what everybody brings to the table."
View Comments and Join the Discussion!
Posted-In: Bottle Breacher Eli Crane Kevin O'Leary Mark Cuban Shark TankStartups Interview Best of Benzinga