Jaguar Range Rover Drives Prologis U.K. Expansion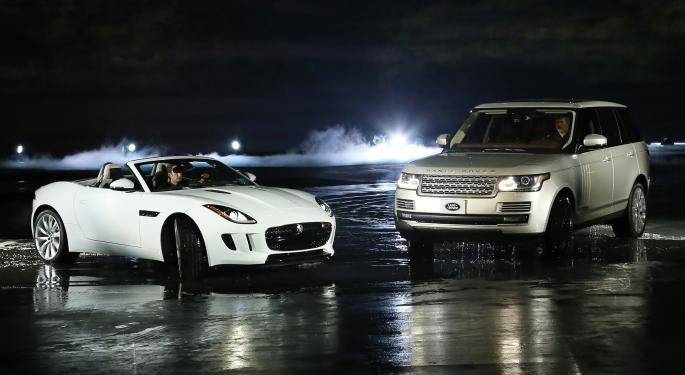 How great would it be to own 10,000 acres of land strategically located near key ports of entry around the globe?
Shareholders in industrial REIT giant Prologis (NYSE: PLD) own an interest in all of that land slated for future expansion and much, much more.
On August 18, 2014, Prologis announced that Jaguar Range Rover has entered into a new lease agreement for 225,000 square feet facility nearby its corporate headquarters facility. Jaguar Range Rover has chosen to locate its special vehicle operations technical center at Prologis Park Ryton, in the United Kingdom.
Of course this is an impressive announcement, but it is just business as usual for San Francisco, California-based Prologis. The company owns and manages approximately 20 million square feet of logistics and distribution space in the U.K. alone, as of June 30, 2014.
To help put 20,000,000 SF into perspective, it is equivalent to owning almost 460 acres of single-story buildings under one roof. But that is far from the entire story.
Prologis: A Proxy For The Global Economy
Prologis owns similar facilities and industrial parks located in 20 other countries located across the Americas, Europe and Asia. The bigger picture is that Prologis owns or has investments through joint ventures in properties and development projects slated to total approximately 574 million square feet.
Now that's a lot of roofs, dock doors and paved areas for trucks serving more than 4,700 customers, including: manufacturing, retail, transportation, third-party logistics firms and many others.
Related Link: REIT Recap for August 18, 2014
Effectively, when an investor owns stock in Prologis, it is a ticket to participate in the growth of the global economy, which is effectively linked together by ocean containers full of exports and imports of raw materials and finished goods.
Prologis has a current market capitalization of $20.6 billion USD. The common stock pays investors an annual dividend of $1.32, currently yielding 3.2 percent.
Industrial REITs With Assets Solely Located In The U.S.
The largest pure-play industrial REIT focused solely on U.S. properties is $2.7 billion market cap DCT Industrial Trust (NYSE: DCT). By way of comparison, DCT Industrial owns approximately 73 million SF of bulk distribution and light-industrial facilities located in 21 high-volume markets across the U.S.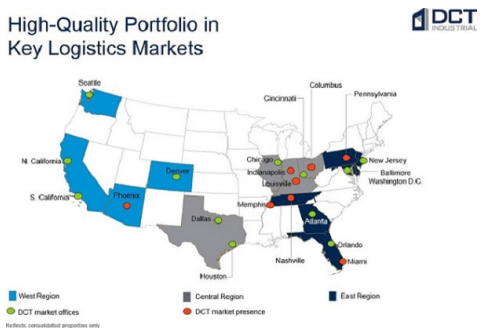 Show Me The Money
Income investors should take note that DCT Industrial pays investors a dividend currently yielding 3.6 percent.
The two U.S. industrial REIT peers currently paying investors the highest dividend yields are $600 million cap Monmouth Real Estate Investment (NYSE: MNR) paying out a dividend yielding 5.64 percent, and $1.3 billion market cap STAG Industrial (NYSE: STAG), which pays dividends monthly with an uncompounded annual yield of 5.6 percent.
Posted-In: jaguar Range Rover REIT reitsREIT Global Trading Ideas Real Estate Best of Benzinga
View Comments and Join the Discussion!