What Matters Most: Childhood Moments
Centennial Contractors Enterprises assembles and gives dozens of bicycles to children from the Boys & Girls Club.
Reston, VA (Vocus) March 24, 2010 -- Eighteen boys and girls experienced the thrill of receiving their first bikes last week, thanks to a donation from Centennial Contractors Enterprises.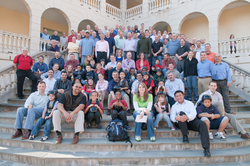 The donation was part of a team building activity during the contractor's annual Leadership Conference, which was held in Warrenton, VA this year. David Sturdevant, director of training at Centennial, organized the activity by partnering with Repario which facilitates experiential learning seminars. The activity was tied to the Conference's theme: "What Matters Most."
Ninety of Centennial's managers and directors split into 18 teams and were then given 25 minutes to assemble a bicycle. Unsure if this was a competition for speed, accuracy or problem solving, the teams quickly got down to the business of building the bicycles.
Minutes into the work, facilitators informed the teams that the bicycles were a donation to the local Warrenton Boys & Girls Club and read letters from a few of the children on what a bike would mean to them. Most of these children had never owned their own bicycle. With this knowledge, the teams quickly switched their mindsets, slowing their pace and checking for accuracy.
After completely building the bicycles, the teams were hit with another surprise; the boys and girls receiving the bikes were actually in the building, ready to receive their new bikes. The kids streamed into the room abuzz with excitement. The kids examined their new bikes and talked with their Centennial teams.
In keeping with its safety culture Centennial gave the kids backpacks that included a helmet. In addition, all the bicycles will be inspected by a certified bicycle mechanic before the kids can ride them.
Centennial managers were hit with the moment, shedding a few tears of joy and beaming with excitement for providing such a memorable moment.
"Reminds me of when my kids were little and when I got my first bike,'' said John Emershaw, Project General Manager New Mexico Centennial. ''It's very heartwarming."
The Boys & Girls Club of Fauquier County, Virginia has two locations and is open everyday from 2:30pm to 8pm. It services 130 kids, ages six to 18, per day.
''I didn't know what to expect, but this is a great thing,'' Jonathan Gregory, executive director of the Warrenton Boys & Girls Club told the group.
Before breaking for the day, Centennial managers assembled six additional bicycles to donate to the Boys & Girls Club. In addition to the new bikes being donated the program by Repario will match Centennial's donation and give 24 additional refurbished bicycles, making the total for the day and the program 48 bikes to kids.
About Centennial Contractors Enterprises
For more than 20 years, Centennial Contractors Enterprises, Inc., has been a leader in providing responsive construction solutions supporting government, educational and business facilities and infrastructures, with projects focused on renovation, rehabilitation and repair. Centennial is headquartered in Reston, VA and has 40 offices across the country. To learn more, go to www.cce-inc.com.
Editor's Note: This release is available at Centennial's Newsroom, http://www.cce-inc.com/news.html.
###
For the original version on PRWeb visit: http://www.prweb.com/releases/bike_bicycle/donations/prweb3770334.htm
View Comments and Join the Discussion!