#PreMarket Prep Guest List For The Week Of November 17, 2014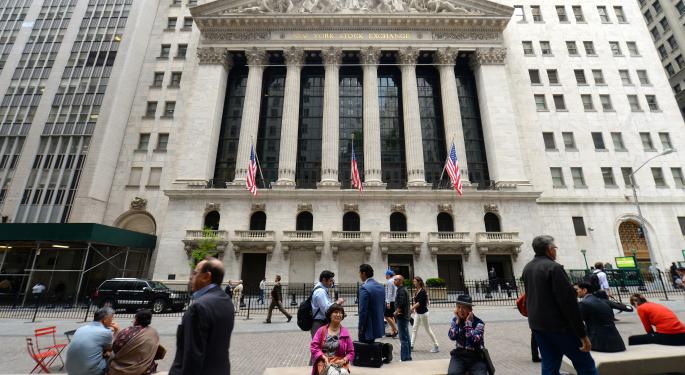 Gemma Godfrey, Felix Salmon and a former Federal Reserve officer are just a few of the great guests on this week's #PreMarket Prep broadcast, sponsored by Marketfy.
Be sure to tune in at 8:00 a.m. EST Monday-Friday here to tune in to the exciting show.
Monday, November 17, 8:35 a.m.
Thomas Simpson, Former Federal Reserve Officer and Author of "Financial Markets, Banking, and Monetary Policy"
At the board, Thomas Simpson was a senior officer with responsibilities in the area of monetary policy, economic forecasting and financial markets, as well as serving as an officer of the Federal Open Market Committee. In addition, he represented the board in various outside organizations, including the Committee on Financial Markets of the Organization for Economic Cooperation and Development (OECD) in Paris.
9 a.m.
Jordan Terry (@The_Analyst), Founder of Stone Street Advisors
Jordan Terry is the founder and managing director for Stone Street Advisors, which does investment research and consulting for institutions, funds, family offices and wealthy individuals. He has also worked at Citigroup and BNP Paribas.
9:20 a.m.
Herb Morgan (@hmorgan422), CEO and Chief Investment Officer of Efficient Market Advisors
Herb Morgan was also the senior president of advisory at Linsco/Private Ledger Financial Services, where he led the nationwide business efforts and managed advisory account offerings. In addition, he has also previously served as a senior vice president at Dreyfus and chief investment officer of Sand Hill Global Advisors.
Tuesday, November 18, 8:35 a.m.
Nic Chahine (@racernic), Creating Income with Options Spreads
Nic Chahine joins the show every Tuesday to discuss the week's options outlook.
9 a.m.
Felix Salmon (@felixsalmon), Senior Editor at Fusion and Author of the Felix Salmon Blog
Felix Salmon is a financial journalist who has previously worked for Portfolio Magazine and Reuters providing economic and financial commentary.
9:20 a.m.
Rev. Emmanuel Lemelson (@Lemelson), Founder and President of Lantern Foundation and Chief Investment Officer of Lemelson Capital Management
Rev. Emmanuel Lemelson is the founder and president of the Lantern Foundation and also the chief investment officer of Lemelson Capital Management. He writes extensively on the psychology of investment policy as well as on the ethics of contemporary legal and economic issues and has been quoted in USA Today, The Street, ValueWalk, SeekingAlpha and countless other places.
Wednesday, November 19, 8:35 a.m.
Fari Hamzei (@HamzeiAnalytics), Founder of Hamzei Analytics
Fari Hamzei joins the show every Wednesday, bringing his wealth of knowledge on aggressive equity options and index futures trends.
9 a.m.
Scott Redler (@RedDogT3), Chief Strategist at T3 Live and T3 Trading Group
Scott Redler has been trading equities for more than 10 years and has more recently received widespread recognition from the financial community for his insightful, pragmatic approach. He began his career as a broker and venture capitalist where he was able to facilitate relationships that led him into trading.
9:20 a.m.
Tim Ord (@OrdOracle), Publisher of "The Ord Oracle"
Tim Ord is also the creator of the "Ord-Volume" software program for stocks and index trading that uses volume strength in a swing to determine buy and sell signals. He is also featured in the book, "Master Traders," by Fari Hamzei.
Thursday, November 20, 8:35 a.m.
Gemma Godfrey (@GCGodfrey), Board Director, Broadcaster and Quantum Physicist
A quantum physicist by background, Gemma Godfrey was CNBC's first official contributor in Europe. She has been voted as the most popular business infuencer on social media and among the "savviest" on Wall Street by The Wall Street Journal.
9 a.m.
Harlan Pyan (@AllAboutTrends), Co-Founder of All About Trends
All About Trends is a subscription-based newsletter service focused on helping individuals secure consistent profits in the market by trading what they see, not what they think, hear or fear.
9:20 a.m.
Jesse Eisinger (@eisingerj), Senior Reporter for ProPublica
Jesse Eisinger covers Wall Street and finance for ProPublica, as well as writing a regular column for The New York Times Dealbook. In 2011, he and Jake Bernstein were awarded the Pulitzer Prize for National Reporting for a series of stories on questionable Wall Street practices that helped make the financial crisis the worst since the Great Depression.
Friday, November 21, 8:35 a.m.
Tim Anderson (@TJAnderson1), Managing Director at TJM investments
Tim Anderson has 30 years experience in equity capital markets and trading that includes senior positions at major investment banks as well as buy side equity hedge funds. He is located on the New York Stock Exchange and is a relationship manager for Institutional Broker Dealer accounts and buy side institutions.
9 a.m.
RJ Hottovy (@MorningstarInc), CFA & Consumer Strategist for Morningstar
RJ Hottovy has covered the consumer sector as an analyst and director of global consumer equity research for Morningstar since joining the company in 2008, and specializes in a broad range of consumer categories including restaurants, footwear and apparel retailers, consumer electronics retailers, fitness clubs, home improvement and furnishing retailers, home improvement and consumer product manufacturers.
9:20 a.m.
Michael Hewson (@mhewson_CMC), Chief Market Analyst at CMC Markets
Michael Hewson holds more than 20 years' worth of experience of trading the markets and specializes in technical analysis. His background is in foreign exchange trading. Before joining CMC Markets, he spent more than 12 years working with market data, delivering education and support functions to diverse audiences -- from experienced traders and private investors, to corporate and retail clients.
View Comments and Join the Discussion!
Posted-In: Benzinga #PreMarket Prep broadcast Felix Salmon Gemma Godfrey Jesse EisingerPre-Market Outlook Best of Benzinga