Are Robo-Advisors Enabling Younger Investors Or Are They Helicopter Advisors?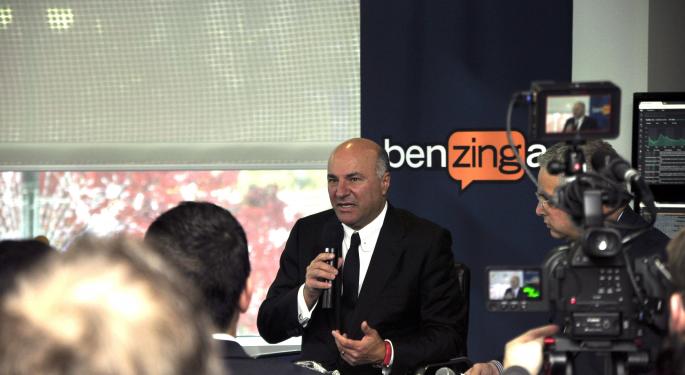 Robo-advisors' automated investment solutions appeal to the two things millennials love most: technology and not interacting with people.
Since inception, the tagline on robo-advisors is they make investing more engaging for everyone. On one hand, it's hard to argue with that. The number of robo-advisors continues to grow as more and more people adopt them.
But does their "set it and forget it" mentality actually encourage young people to not have a clue about how they're investing?
Two keynote speakers at this weekend's MIT Fintech Conference would each tell you a different story.
Plug And Pay?
Kevin O'Leary, noted investor of "Shark Tank" fame, thinks young people need to understand what investing is from a young age and how they can use it to build wealth. O'Leary built a small-dollar investment fintech product called Beanstox that allows people to dip their toes into the market without large amounts of upfront capital for that purpose.
"There are a lot of robo-advisors on the market, and I think that's great, but the problem with a robo is you as an investor don't actually know what you're doing," O'Leary told Benzinga. "You're not buying a security—you're buying a platform that does the allocation for you."
That's why Beanstox allows users to invest in fractional shares of equities with small dollar amounts, O'Leary said—it allows users to build a portfolio.
"I'd rather hear someone say 'I own 21 stocks, I'm fully diversified, I'm getting a yield of 1.8 percent, I'm watching my dividends come in,'" O'Leary said. "Whatever gets people closer to investing is great, but what I'm doing is getting people into financial literacy. A bank doesn't care about someone with five bucks, but I do. You can buy 10 stocks with five bucks through fractional shares and over time, you can build up a portfolio."
Related Link: How This Serial Entrepreneur Developed The App Millennials Use To Avoid Overdraft Fees
Building Wealth For Your Health
Ashley Fieglein Johnson, Wealthfront's COO and CFO, might argue that what O'Leary says isn't necessarily relevant to building wealth in the long term. While discussing how Wealthfront has steered its clients through market corrections in recent years, Fieglein Johnson noted their clients understand long-term investment strategies.
"Our clients are smart investors and are convinced of our long-term passive investment philosophy that shows short-term fluctuations in the market have little to do with long-term accumulation of wealth," she said.
Feiglein Johnson noted that, despite several market corrections (such as the trillion-dollar Brexit sell-off in June 2016) Wealthfront has grown 10 times in the past three and a half years.
"The history of the market teaches us that slow and steady wins the race, but it's emotionally hard not to make a human error, like withdrawing your funds at the bottom, when you sense the danger of a market correction," she said. "That said, our main priority whenever a correction happens is to reassure our clients to keep calm, stay the course and let our tax-loss harvesting service work for them."
Feiglein Johnson might also tell O'Leary it's a bit of a mischaracterization to say that robo-advisors are a "set it and forget it" solution. She predicts that as young people begin to demand more of their financial services products, robo-advisors will have to offer more advice and engage their clients more with education.
"We're all aware that millennials expect modern products to be at their service anytime and anywhere, but that is not enough anymore—especially in finance," she said. "Millennials have started to expect these services to act as a digital assistant and offer actionable insights and advice. We'll start to see successful fintech companies utilize third party data to offer recommendations to consumers such as what financial goals they should be saving for, and what account their next dollar should go in order to reach those goals."
For the latest in fintech, grab a ticket to the Benzinga Global Fintech Awards May 15-16 in New York.
View Comments and Join the Discussion!
Posted-In: Ashley Fieglein JohnsonFinancial Advisors Fintech Education Top Stories Personal Finance Interview General Best of Benzinga