Benzinga Money is a reader-supported publication. We may earn a commission when you click on links in this article.
Learn more.
Most people know that they should be investing for the future. But with so much technical jargon and thousands of investment options, saving can quickly become overwhelming, stressful and a challenging chore. A robo-advisor can help you automate your savings and invest without spending hours researching.
Today, there are more options than ever when it comes to automating your investments. But what is a robo-advisor — and is it the right choice for your unique financial situation? Take a look at 3 of our favorite robo-advisors and learn a bit more about the pros and cons that come with these innovative tools.
Best Robo Advisors
Account Minimum
$100
for regular accounts
$500
for retirement accounts
M1 Finance
M1 Finance is a unique robo-advisor that uses a "pie investing" strategy to help you visualize your progress toward retirement, homeownership or your financial goals.
When you sign up with M1 Finance, you'll answer a few questions about your finances and investing preferences. From there, you can choose from 1 of 80 expert "investing pies" made up of a selection of stock and ETF "slices." You can also create your own pie by selecting investments yourself.
When you make a deposit into your M1 Finance account, it will automatically split your investment according to your investing mix. You can schedule deposits on a weekly, monthly or annual basis.
There are no fees or commissions on basic M1 Finance accounts, and you can get started investing with as little as a $100 initial deposit.
Best For
Investors with defined financial goals
People who are new to investing
Passive investors who want to diversify their portfolio
Investors who want to invest heavily in ETFs
Investors looking for low-cost investment options
Investors looking to plan their retirement
Pros
Can open an account with a $0 minimum balance
Offers goal-based investing
Charges low annual management fees
Offers a wide range of stocks and ETFs
Provides access to advanced investing tools
Provides personalized financial advice plans
Betterment
Like M1 Finance, Betterment offers personalized investor portfolios with varying levels of risk and volatility. After you complete an intake form, Betterment will help you choose a portfolio that matches your needs. You can also adjust your asset mix according to your needs. From college investors to retirees, there's a Betterment portfolio for all stages of life.
When most people think of investing, they typically think about saving for retirement. In addition to retirement saving, Betterment also offers goal-based investing. From building an emergency fund to putting a child through college, Betterment can use visuals to help you track your progress of your goals.
Betterment offers a tiered pricing strategy that increases as your investments compound. Most investors will pay 0.25% per year on their balance — that's about $25 per $10,000 invested annually. There is no minimum account balance required to get started with Betterment, and the company also offers more in-depth financial advice with its higher-priced Premium plan.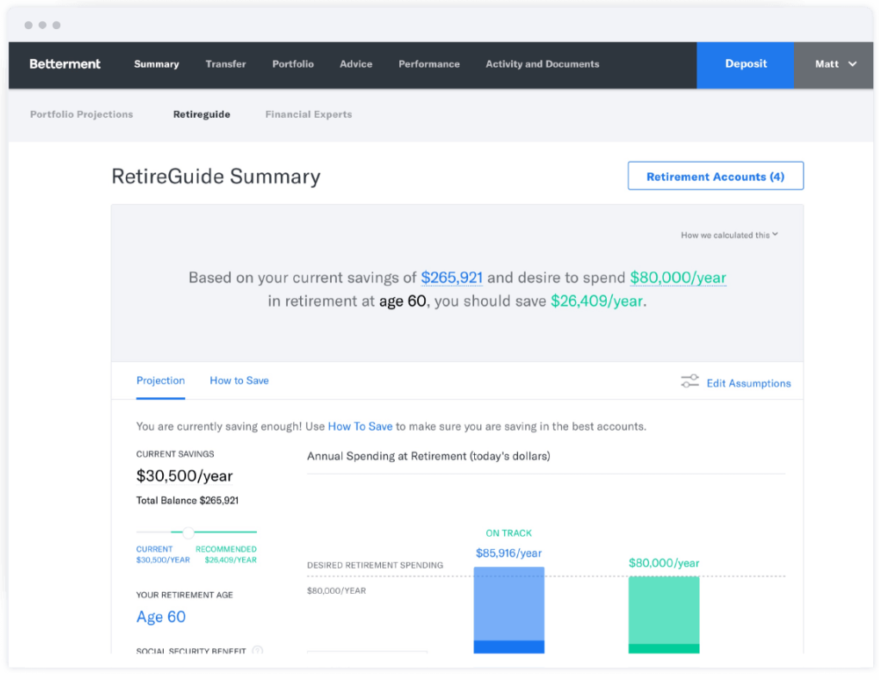 Pricing
Fees range based on deposit amount and services used
Best For
High-net-worth individuals looking for a comprehensive digital financial manager
Retirement planning
Self-starters who can use the Personal Capital Financial Tools to track finances and set long-term financial goals
Pros
Handle your portfolio, financial planning and spending accounts with cutting edge digital financial management technology
Panoramic view of your finances on display 24/7 using precise analytics and a dashboard that displays all your accounts together
Executive-level financial planning and investment management
Personal Capital
If you have a more complicated financial situation, you might want to consider investing with Personal Capital. Personal Capital is a hybrid financial planner, wealth management company and robo-advisor that can help you manage your money for the future and plan toward multiple goals.
The biggest draw of Personal Capital's system is its human financial advising services. No matter your balance, you'll receive individual investing advice from a team of financial advisors. If you have at least $200,000 in assets, you'll receive your own personal team of 2 dedicated financial advisors.
Access to human financial advisors isn't all that Personal Capital offers. Personal Capital also helps you connect all of your bank, investing and credit card accounts and track your spending. This feature is perfect for investors who are used to using a budgeting software like Mint to track their spending.
Personal Capital's software even includes a fee analyzer to help you locate mutual funds in your portfolio that may be costing you more money than they're worth. With comprehensive software and a holistic view of your financial health, Personal Capital is a true 1-stop-shop for all of your investing, saving and budgeting needs.
Personal Capital has a minimum account balance of $100,000, which means that its services will be reserved for higher-value investors. You'll pay between 0.46% to 0.89% of your total asset balance depending on your total portfolio balance, with lower fees extended to those with over $10 million in assets under management.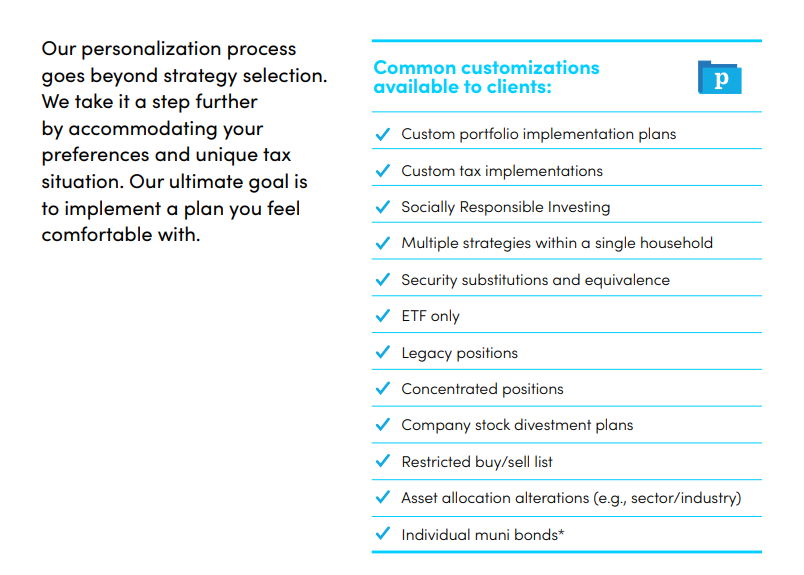 Vanguard Digital Advisor
Vanguard Digital Advisor is accessible for any Vanguard Brokerage Account holder who isn't enrolled Vanguard Personal Advisor Services. You'll need at least $3,000 in any Vanguard Brokerage Account to manage with the Vanguard Digital Advisor.
Eligible accounts are individual taxable accounts and Traditional or Roth Investment Retirement Account (IRA). With Digital Advisor, your portfolio is composed of exchange-traded funds (ETFs) with personalized weighting across stocks, international stocks, bonds and international bonds.
Vanguard Digital Advisor users are assessed a yearly advisory fee. Your true cost will vary depending on what your holdings look like. You can generally expect to pay between 0.15% and 0.20% in assets under management (AUM).
SoFi Automated Investing
Automated investing through SoFi is known as "hands-off investing that's always on." SoFi can help you set goals whether you're saving for retirement, saving for a down payment or simply investing for later. The brand will rebalance your investments by adjusting your stock and bond funds quarterly and diversify your portfolio by allocating across several different investments and avoid as much risk as possible.
You can start investing through SoFi with as little as $1 and make 1-time or recurring payments depending on what works best for your goals. Investing through SoFi also gives you access to member benefits and discounts on other SoFi products.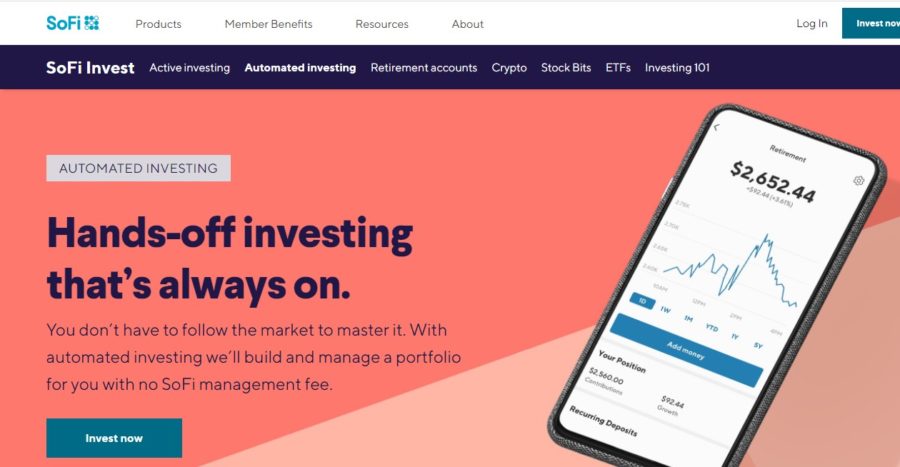 Why a Robo-Advisor?
Do you think that investing with a robo-advisor might be right for you? Let's take a look at a few of the biggest advantages and disadvantages that come with using this type of investment platform.
Advantages
Assistance choosing investments profiles. If you've never invested your money before, you might be overwhelmed by the sheer number of investment options to choose from. Robo-advising services have award-winning investment models — when you enroll in a robo advising service, you'll take a short intake form to determine your investing goals and risk tolerance. This offers you an easy way to customize your investments without spending hours researching investments on your own.
Low fees. A major advantage of robo-advisors over human financial advisors is the low fees. On average, you can expect to pay between 0.25% to 0.50% of your total assets under management for your robo-advisor. If you have $50,000 worth of assets under management, this means that you can expect to pay about $125 to $250 in fees for your robo advising services.
On the other hand, most human financial advising services charge about 1% of your total assets annually for services. If you have $50,000 worth of assets, this means that you'll pay $500 per year for advising services. While this might not sound like a huge difference, it can add up over time and cut into your savings.
Low minimums. Most human financial advisors have high minimum investments. Because these services charge around 1% of your total assets under management, it might not be worth it for an advising firm to take on clients with less than $250,000 in assets. Some registered financial advisors have minimum account balances as high as $1 million.
Robo-advisors are a much more accessible option. If you don't have much money to invest, a robo-advisor can offer the perfect balance between completely DIY-ing your investment portfolio and saving hundreds of thousands to begin with a human financial advisor.
Disadvantages
Don't offer 100% personalization. Though robo-advisors are advanced and most offer a host of investing choices, they aren't 100% personalized. A robo-advisor can't offer you advice after a significant market drop, and they may be able to provide limited advice if you have multiple financial goals. If you have a more complicated financial situation, you might need the human touch of a personal financial advisor.
No face-to-face meetings. If you've never invested before, you might want the hand-holding that a human financial advisor can offer. When you invest with a robo-advisor, you can't walk into an office or schedule a meeting with an advisor — you're on your own with the tools your robo-advisor offers.
Invest with a Robo Advisor
Though they have their flaws, robo-advisors are an easy and accessible way to begin investing for the future. Most robo-advising services offer a surprising level of personalization, and you can get started investing in as little as 10 minutes.
If you've been wanting to learn more about investing but have been overwhelmed by brokers and asset classes in the past, a robo-advisor might be right for you. Contact 1 of our recommended robo-advisors to look into your account options today.
Related content: SigFig Review
Turn to Webull
0 Commissions and no deposit minimums. Everyone gets smart tools for smart investing. Webull supports full extended hours trading, which includes full pre-market (4:00 AM - 9:30 AM ET) and after hours (4:00 PM - 8:00 PM ET) sessions. Webull Financial LLC is registered with and regulated by the Securities and Exchange Commission (SEC) and the Financial Industry Regulatory Authority (FINRA). It is also a member of the SIPC, which protects (up to $500,000, which includes a $250,000 limit for cash) against the loss of cash and securities held by a customer at a financially-troubled SIPC-member brokerage firm.