Exclusive: Sharestates.com And Its $30 Million Real Estate Crowdfunding Raise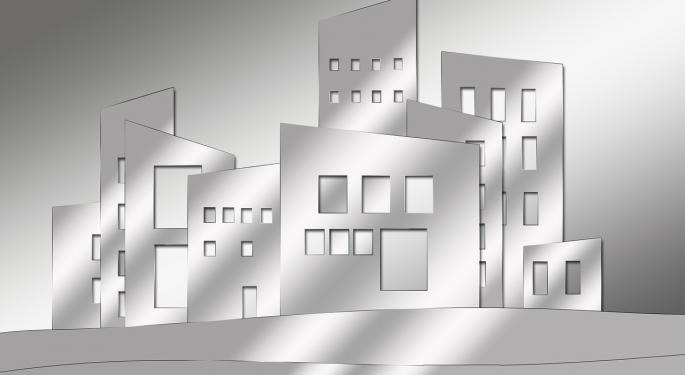 On Tuesday, real estate crowdfunding platform Sharestates.com announced that the Ranger Direct Lending Fund (RDLF) will be investing $30 million in real estate opportunities sourced by Sharestates. RDLF is advised by Ranger Alternative Management II, LP, a Texas-based Ranger Capital Group affiliate.
Ranger recently raised $200 million in a London Stock Exchange offering, targeted for investment in non-bank direct lending platforms and utilizing up to 50 percent leverage to return an annual dividend yield of 10 percent to investors, as reported by the Financial Times.
Related Link: Porch.com Expands Real Estate Listing Network
Sharestates and RDLF are "intending to invest in residential, commercial and mixed-use properties in New York, scaling their investments throughout the remainder of the year," according to the joint release.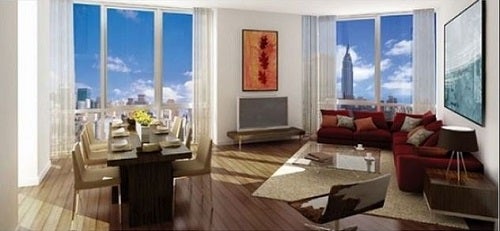 Source: Sharestates.com
Real Estate Crowdfunding: Multiple Business Models
Many investors are familiar with crowdfunding sites such as Kickstarter, or peer-to-peer lending sites such as Lending Club.
While real estate crowdfunding may be less familiar, there are well over 70 different platforms for investors to evaluate and ultimately decide to invest in one or more projects.
Essentially, each real estate lending portal takes a different approach to vetting developers/sponsors, underwriting projects and aggregating investor funds to either make a loan, equity investment or in some cases a hybrid of both.
RDLF Partner Bill Kassul stated, "In our view, Sharestates is one of the most promising real estate platforms in the direct lending industry. Their on- boarding process was completely transparent and their management team was very easy to work with. We are excited to have them as a partner moving forward."
Related Link: Macerich, Sears Reach Mall Real Estate Deal; What's It Mean?
BZ Exclusive: Sharestates.com Business Model
On Tuesday, Sharestates.com CEO Allen Shayanfekr gave an exclusive interview to Benzinga, in which he discussed in detail several unique aspects of his company's approach to sourcing projects and ranking them according to a proprietary risk/return matrix and grading system.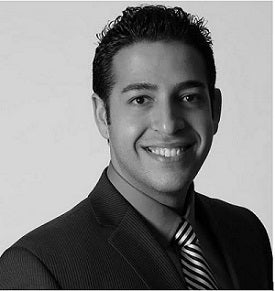 Sharestates CEO Allen Shayanfekr
BZ: Can you share with readers how Sharestates.com has evolved to the point where a public investor fund committed $30 million to your platform?
AS: My background as an attorney and licensed title producer in 28 states, along with my co-founders' (Ray and Radni Davoodi) title industry and real estate speculation experience, led to an exclusive Sharestates' relationship with New York-based Atlantis National Services title services agency. The network we have all built over the last 15 years is instrumental to our ability to originate deals and a key source of our success.
Essentially, Atlantis gives Sharestates.com a preview to a pipeline of deals long before a traditional lender would even be aware of them; this allows Sharestates to proactively cherry-pick projects for our platform.
BZ: How many projects do you consider in a typical month, and how many are actually underwritten?
AS: While it varies, it is hundreds of projects each month, and less than 2 percent make the cut.
BZ: Can you give us a quick timeline of how your real estate crowdfunding platform has evolved?
AS: Sure. Crowdfunding really got its start in 2012 as part of the Jobs Act, which is continuing to evolve. We conceived the idea in August 2012, and it took another year to develop our software platform. The Sharestates.com site went live in a beta launch July 2014, and we formally launched our "2.0" site in February 2015.
During that time we have also done a "Regulation A" deal, but found that even though we were able to get approvals in under 12 week, that it was really too long for a crowdsourced deal.
BZ: How long does it typically take to raise funds for your projects online?
AS: While it varies, the quickest was 12 hours and the longest was eight days.
Part of our "secret sauce" is our proprietary method of evaluating projects and ranking the risk/return for potential investors. We use a risk matrix, combined with a grading system.
Sharestates' Risk Matrix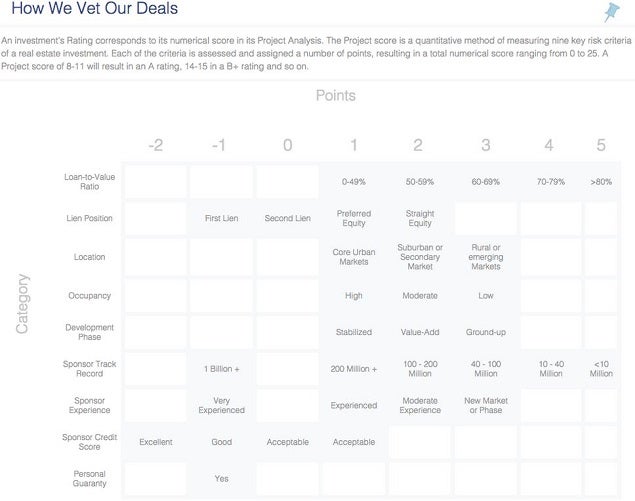 Sharestates' Grading System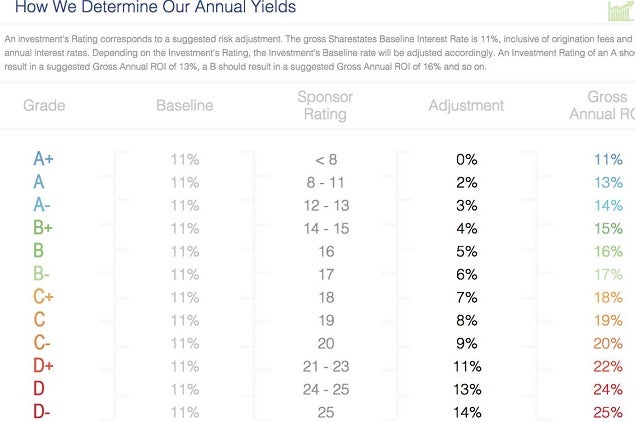 Related Link: Real Estate Crowdfunding: Are IPOs The Next Step?
AS: We feel our software "wow factor" is transparency. We continue to build more tools into our platform for both investors and deal sponsors. Investors can now auto-pay by debit, while project sponsors have a streamlined online process if they have a complete package for us to evaluate.
BZ: What types of projects do you typically focus on evaluating for Sharestates' investments?
AS: Typically, our deals are one- to four-unit residential projects, either construction loans or senior debt, with a fairly short duration of six to 12 months. Additionally, we do provide equity and participate in larger deals, such as eight- to 20-unit condos, which could go as long as 30 to 36 months.
BZ: What is the largest project you have participated in?
AS: The largest project was an equity position in a $36 million condo project in located in the East Village of Manhattan, New York.
BZ: Will investors be able to invest along with Ranger, and what will those deals look like?
AS: Yes, our crowdfunding investors will be able to invest in the same deals with the same risk/return as Ranger, plus they benefit from another level of underwriting. We have already done five senior mortgage debt deals with an aggregate value of $1.5 million with Ranger prior to our announcement today.
Investor Takeaway
Real estate crowdsourcing is a relatively new and quickly evolving alternative investment space. The vast majority of deals are not registered with the SEC and are currently only offered to accredited investors.
It still remains to be seen if new rules, such as the recently announced SEC "A+" regulation, will make it practical for crowdfunding sites to accept funds from average investors, and likewise, for average investors to receive adequate protection and disclosures.
Image Credit: Public Domain
Posted-In: Allen Shayanfekr Atlantis National Services Radni DavoodiBill Kassul Ranger Alternative Management II LPCrowdsourcing Exclusives Interview Real Estate Best of Benzinga
View Comments and Join the Discussion!