Top 10 Reasons We're Excited For David Letterman's Return On Netflix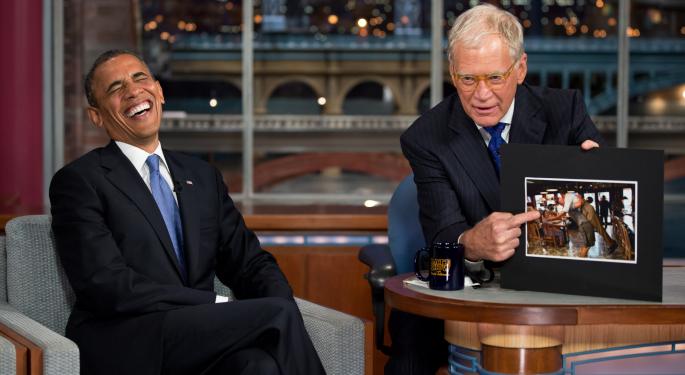 He's back.
David Letterman will return to television via a six-episode series on Netflix, Inc. (NASDAQ: NFLX), set to debut in 2018. In each hourlong episode, Letterman will conduct a longform conversation with a singular guest as well as explore other topics outside of the studio.
"I feel excited and lucky to be working on this project for Netflix," Letterman said in a press release. "Here's what I have learned, if you retire to spend more time with your family, check with your family first. Thanks for watching, drive safely."
Letterman left the airwaves in May 2015, following a 33-year-long career on late-night television. The last 22 years of his career were spent with CBS Corporation's (NYSE: CBS) "Late Show" after he spent the first 11 on NBC's highly influential "Late Night."
Known for his deadpan humor, unusual gags and insightful commentary, here are the top 10 reasons we're excited to have Dave back:
10. Dave, of course. While he's popped up here and there, we haven't seen or heard too much of Letterman since he left CBS two years ago.
9. Uncut. Known for his crass personality, the uncensored terrain of Netflix could give us an even edgier side of Dave, who spent more than three decades on network television.
8. Biff! It's unclear right now what the production of the series will look like, but Letterman fans miss stage manager Biff Henderson.
7. More stupid pet tricks.
6. Dave's beard. Will he keep it?
5. The president. Letterman and cable counterpart Jon Stewart stepped away from late-night TV at the perhaps the worst possible time for a comedian. It'll be interesting to see how Donald Trump, a frequent guest of Dave's over his career, is brought up.
4. The interviews. Dave was never the most friendly of talk show hosts, which has led many to criticize the likes of Jimmy Fallon for being too friendly today. While it depends on the interviewee, his style will be a welcome sight.
3. Pope Francis. Letterman has said he would love to interview the progressive pope, known for embracing social media and even recording a TED talk.
2. Six more top 10 lists?!
1. Just watch this video:
Image: Pete Souza [Public domain], via Wikimedia Commons
Posted-In: David LettermanOpinion Top Stories Tech Media Best of Benzinga
View Comments and Join the Discussion!